2018 Open Call Winners
SOHO20 is pleased to announce the winners of the 2018 Open Call cycle.
Joining us this summer for the Residency Lab will be Katy McCarthy and Roopa Vasudevan. Exhibiting in the 2018/2019 season of the +/- Project Space will be Motoko Fukuyama, Emily Oliviera, and Romily Alice Walden.
---
2018 Residency Lab
Jurors: Lindsey Berfond (Assistant Curator for Public Programs, Queens Museum), Anne Elliott (SOHO20 Artist Member), Carla Hernandez (SOHO20's Board President / Programs Chair), Sarah G Sharp (Artist, Educator, and former SOHO20 Artist in Residence), Rachel Steinberg (SOHO20 Gallery Director)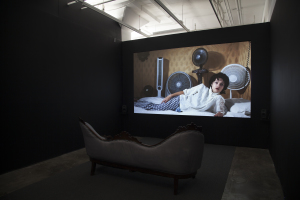 Katy McCarthy is a research-based artist working primarily in video. Her work laminates historical moments with contemporary experience, often focusing on the historicization of gender and identity. She has been an artist-in-residence at Grin City, Iowa and The Wassaic Project in Wassaic, NY. Her work has been shown at Sleep Center Gallery, New York; Flux Factory; Santa Barbara Contemporary Art Museum; Santa Barbara Museum of Art; Tiger Strike Asteroid, Los Angeles; Maxon Mills; and the Military Museum in Belgrade. Upcoming group shows include the CAC Bretigny in France and NURTUREart's 2018 Single Channel: Video Art Festival. She received her MFA from Hunter College where she was the recipient of the Kossak Fellowship.
Roopa Vasudevan is an American artist, creative coder and researcher, currently based in the northeastern United States. Her work explores the influence and impact that our increasingly digital and tech-reliant way of life has on culture, politics, and real world behaviors — and the ways in which technology can reveal patterns and biases in our real-life social systems. She has exhibited internationally in Belgium, China and the United States, and been featured on Reuters, PBS NewsHour, Slate, Hyperallergic, Jezebel, Complex, PSFK, the FADER, Public Radio International, and more, as well as on American, French and German television. Recently, she has been a participant in the Arctic Circle Residency (Svalbard); China Residencies' #slowtrain digital residency (Trans-Siberian Railway); the SPACES World Artists Program (Cleveland, OH); and the Flux Factory artist collective (Queens, NY). Roopa received an MPS from the Interactive Telecommunications Program (ITP) at NYU's Tisch School of the Arts in 2013. Between 2016 and 2018, she was an Assistant Arts Professor of Interactive Media Arts at NYU Shanghai.
---
+/- Project Space: 2018/2019 Exhibition Season
Jurors: Carla Hernandez (SOHO20's Board President / Programs Chair), Son Kit (Artist, past +/- Project Space exhibitor), Eva Mantell (SOHO20 Artist Member), Rachel Steinberg (SOHO20 Gallery Director), Doris Zhao (Curatorial Assistant, Studio Museum in Harlem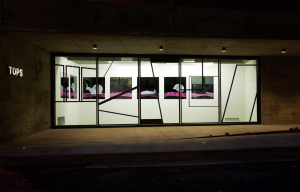 Motoko Fukuyama's work questions how place can shape the lived experiences and interior lives of her subjects. She creates an open and sympathetic space for exploring the socioeconomic realities and psychology of everyday life. Her approach is quasi-documentary, using real life stories and adapting them into more fantastical cinematic and sculptural scenarios. Her collaborative approach forefronts both the subjects themselves, and the conditions surrounding her filming of their interactions and conversations. Her exhibition, You Never Know What Idea You Might Have, 2017, a two-month project at Recess, NYC, utilized the Argo Electronics Store located on Canal Street as a the subject of her film as well as a site of invention and experimentation. The subject of La Bohème, her recent solo exhibition at Tops Gallery in Memphis, Tennessee, is her own sister Naoko, who has been in the throes of depression and bipolar disorder for most of her adult life. Fukuyama is a 2015 Rema Hort Mann Foundation Emerging Artist Grantee, a 2017 MacDowell Colony Fellowship recipient, and a 2018 Yaddo resident.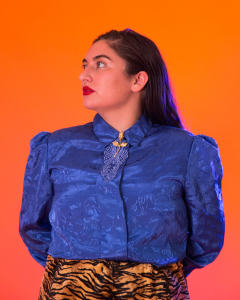 Emily Oliveira is a Brooklyn-based textile artist, performance artist, musician, and designer. She is a graduate of the Rhode Island School of Design and studied performance at Brown University. Her visual art work uses labor-intensive craft mediums to explore gender, race, sexuality, and the marginalization and erasure of women's labor. Her work has been shown at SPRING\BREAK, Space Heater Gallery, Disclaimer Gallery, Euridice Gallery, and the Museum of Arts and Design. Her performances use original and popular music, extravagant costumes, and narratives lifted from pop culture to pick apart American culture and history. She has presented evening-length performances at Ars Nova, Dixon Place, Brown University, and the Judson Memorial Church, and short performances at spaces across Brooklyn and Manhattan. Her costumes have been shown at the Center for Performance Research, The Parlour, Judson Memorial Church, Invisible Dog, and Theater for the New City. She was a 2017 Ars Nova Maker's Lab resident artist, a resident artist at the AIR Gallery Governor's Island Studio Residency, a 2018 resident artist at the Museum of Arts and Design's Artist Studio Program, a 2018 resident at Yaddo, and the BRIC workspace residency.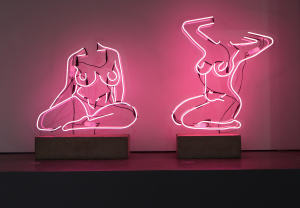 Image credit: Hannah Burton
Romily Alice Walden is a transdisciplinary artist whose practice is concerned with physicality and its interplay with other social categorizations and power differentials. At the core of this practice is an interrogation of contemporary embodiment and its relation to the Post-Internet age. Her work questions modern western society's relationship with looking, being looked at, gendered hierarchies, disability and the body. Walden's work has been widely exhibited and featured in publications such as Vice, Hunger Magazine and Another Mag. She lives and works between London, United Kingdom and Berlin, Germany.