Afarin Rahmanifar: Women of Shahnameh, The Memories Between
current exhibitions | upcoming exhibitions | past exhibitions
November 17 – December 22, 2017
Opening Reception: Fri. November 17, 6-9pm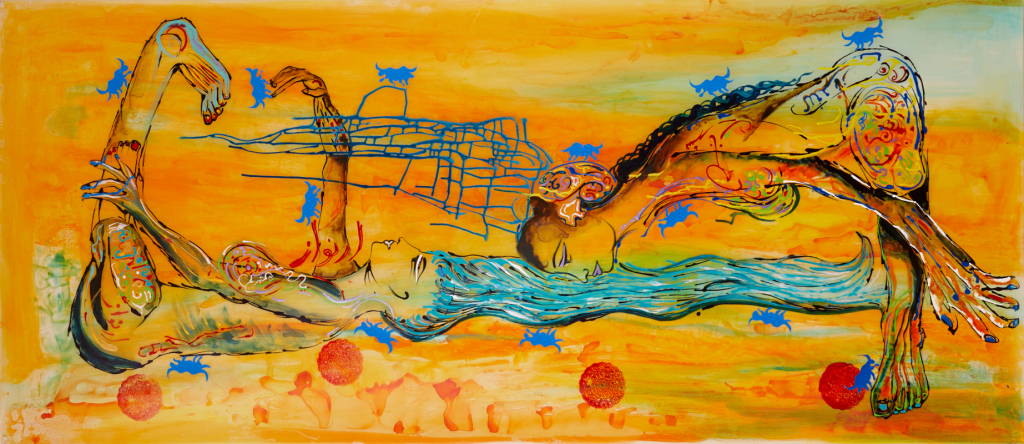 Image: Arnavaz and Shahrnaz, 2017. Mixed media on paper, 3 x 7 feet.

SOHO20 is pleased to present the first exhibition of works with member artist Afarin Rahmanifar.
Rahmanifar's work is inextricably bound to her experience living in exile from Tehran, the city where she grew up, in the aftermath of the Iranian Revolution. The necessity of having to acquiesce to a new culture, therefore adjusting her own identity, provides the foundation for the tension and chromatic energy in her work. Her subject matter combines references from her upbringing – the story Shahrazad and the poetry of Shahnameh, with images of Barbie – from the second stage of her life as an American mother to a little girl. Likewise her painting style draws on her early training in miniature painting, while also using the tools of abstraction, afforded to her in her later education.
Rahmanifar found her own voice through her work by looking at women throughout history who struggled to find a balance between power and grace. This new installation is her most ambitious work yet – in medium and scale, but also in engaging an iconic subject. These paintings on vellum, suspended from the ceiling like scrolls, take from Ferdowsi's epic poem, Shahnameh. From this 10th century literary masterpiece, Rahmanifar extracts stories of the women in particular – such as the sisters Arnavaz and Shahrnaz – kidnapped daughters of Jamshid, the mythological king of Iran, and the first women to appear in this epic. Centering these female characters, she reinterprets familiar narratives, creating unexpected images – unearthing stories of influence, but also of transience. Through these paintings we see the resounding and ephemeral evidence of Ferdowsi's women, while also beginning to see the artist herself more clearly.