ANNE ELLIOTT: LIFE LINES
current exhibitions | upcoming exhibitions | past exhibitions
September 6 – October 7, 2018
Opening Reception Friday, September 7, 2018
Installation images available here.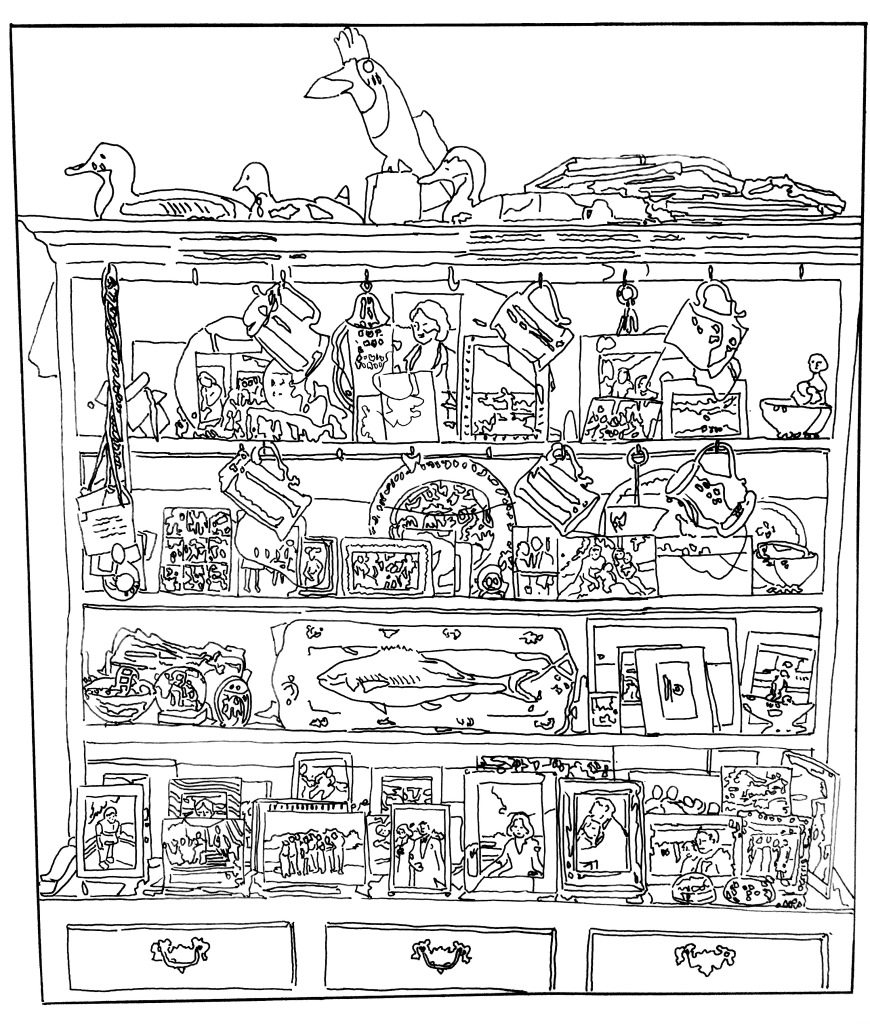 Image: Life Lines, Vitrine, 2018, marker on mylar
SOHO20 is pleased to present Life Lines, an exhibition of new drawings by member artist Anne Elliott.
Elliott here expands upon the intricate and intimate marker line drawings on Mylar that she began in 2016. From the close proximity of caring for a loved-one during illness, Elliott turns her observational capacities to examine the markers of emotional experience and ancestry as glimpsed in the arranged mementos and framed photographs of friends and family, or snapshots from a smartphone next' a cup, across a table.
Entire landscapes of memory inhabit a solitary shelf, vitrine, or stuffed-sofa's side table. Domestic interiors become parallels of, or proxies for, emotional interiors, and a selection of portraits, drawings rendered like photos sent from a phone, punctuate both. Of this recent work, Elliott reflects on the necessary and subtle ways that the physical quality of lines relate to their semantical and emotional existence in the quotidian:
"Lines are archives of experience, the more deeply etched, the more deeply felt, perhaps. Close up the lines become landscapes, emotional landscapes, portraits of past experience. I began to see these 'life lines' everywhere. Lines connect us to history and ancestry, too. In almost any house you viist there are collections of pictures, objects, personal treasures, on mantle pieces or pianos or tables, carefully placed. These personal shrines are records of our attachments, emotional links that create meaning in our lives. If you ask about a picture or object, you will likely hear a story, which is a line of connection to memory. Lines are routes to follow. Lines trace where people intersect, or outline the boundaries of cities. People refer to their 'lines of work…' Our lives are defined by lines."
SOHO20's exhibitions are generously supported by the Lagunitas Brewing Company.