Artist in Residence – Roopa Vasudevan
July 7 – August 17, 2018
Installation images available here.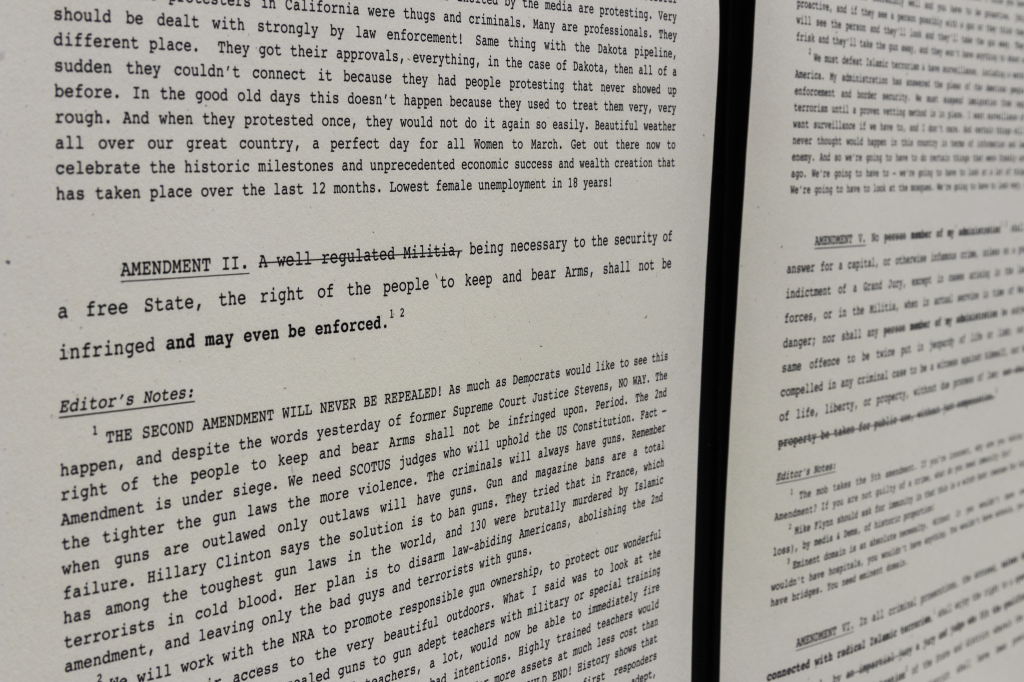 EDITOR'S NOTES: Open Editing Sessions
"As has been stated by numerous legal scholars, I have the absolute right to PARDON myself, but why would I do that when I have done nothing wrong? In the meantime, the never ending Witch Hunt, led by 13 very Angry and Conflicted Democrats (& others) continues into the mid-terms!" – President Donald J. Trump (@realDonaldTrump)
For the 2018 Residency Lab, Roopa Vasudevan will continue her project "Editor's Notes," a series in which the artist uses data collected from Trump and his administration between 2015 and the present to edit the foundational legal documents of American society.
Vasudevan will open her studio to the public to help her pair data that she has collected from the current administration with relevant sections of United States legislation and court decisions. Participants will be asked to take tweets, quotes, and other spoken or written archives, and associate them with either with sections of legislative documents that seem relevant, or ones that are actively being changed by the executive branch.
No computer programming skills necessary; everything will be done physically, on paper, by mixing, matching, and attaching phrases to different texts on the walls of the gallery. Examples of the previous iterations of this series ("Amendments" and "Constitution") will be provided for reference.
Events:
Open Editing Session no. 1
Thurs. July 12, 6-8pm
During the first of three editing sessions, Vasudevan will introduce an audience to her own work collecting and archiving data in a variety of manners, as well as introduce participants to basic DIY data collection processes (both with and without using code). She will discuss what it means to archive electronic data, particularly in a political context, and how we can use the noisiness of platforms like social media and 24-hour news outlets to our advantage in this regard.
Open Editing Session no. 2
Tues. July 24, 6-8pm
Open Editing Session no. 3 / Open Studios
Fri. August 10, 6-9pm
Roopa Vasudevan is an American artist, creative coder and researcher, currently based in the northeastern United States. Her work explores the influence and impact that our increasingly digital and tech-reliant way of life has on culture, politics, and real world behaviors — and the ways in which technology can reveal patterns and biases in our real-life social systems. She has exhibited internationally in Belgium, China and the United States, and been featured on Reuters, PBS NewsHour, Slate, Hyperallergic, Jezebel, Complex, PSFK, the FADER, Public Radio International, and more, as well as on American, French and German television. Recently, she has been a participant in the Arctic Circle Residency (Svalbard); China Residencies' #slowtrain digital residency (Trans-Siberian Railway); the SPACES World Artists Program (Cleveland, OH); and the Flux Factory artist collective (Queens, NY). Roopa received an MPS from the Interactive Telecommunications Program (ITP) at NYU's Tisch School of the Arts in 2013. Between 2016 and 2018, she was an Assistant Arts Professor of Interactive Media Arts at NYU Shanghai.