current exhibitions | upcoming exhibitions | past exhibitions
BONAM KIM: Objective Tracings
February 7 – March 10, 2019
Opening Reception: Fri. February 8, 2019, 6-9PM.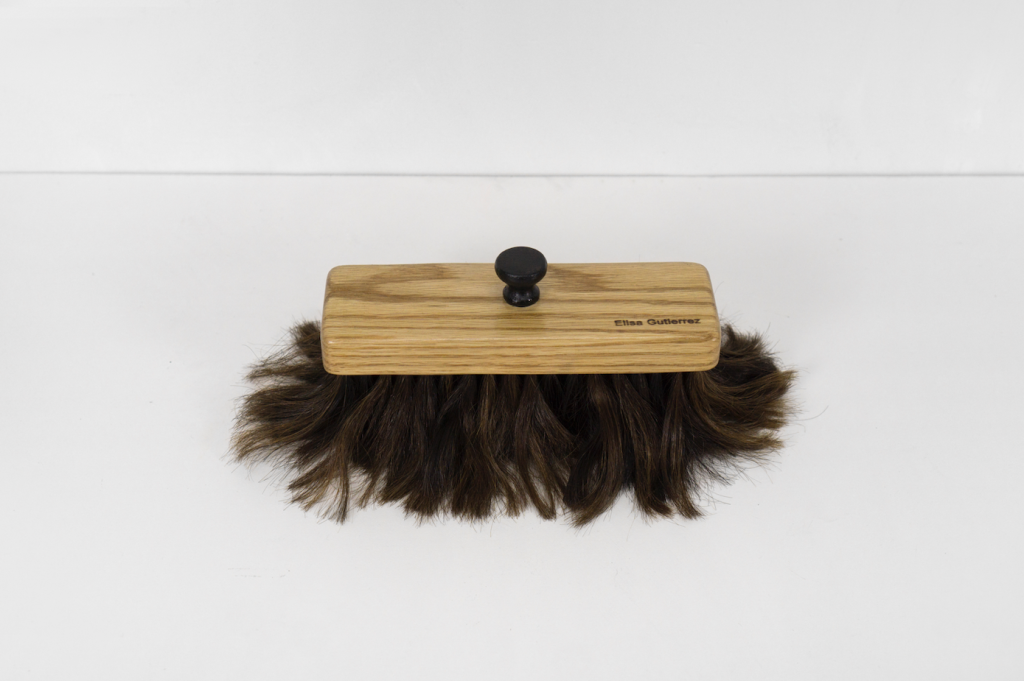 SOHO20 is pleased to present Objective Tracings, an exhibition of work by member artist Bonam Kim.
Kim, who moved to New York from Korea four years ago, does not want her work to be about identity. Yet it is with the bodily traces of such that two of her recent projects, on view at SOHO20, negotiate.
For Broom and Brush (2016- ), an ongoing project begun in 2016, Kim placed ads on Craigslist requesting that people cut their hair and send her the clippings, which she then used to construct brooms and brushes. Each object contains an amalgamation of gestures; not only numerous digital correspondences, but also the DNA of strangers and friends. Use of human hair has a long history that spans continents and cultures, from superstitious ritual to amourous or bereaved devotion. Kim notes that with her work, "the once unremarkable object becomes a mash up of body and tool, animate and inanimate."
Beyond the Time ( November 1, 2016 – April 30, 2017) is a half-year project that resulted in 181 pairs of deteriorating footprints. Every morning for a half-year, Kim traced a piece of burlap in the shape of her feet, attaching the piece to the sole of her shoes for that day. At the day's end, she removed the piece, preserving it in a plastic bag.
Kim notes that the idea for the work emerged from hearing a story of her ancestors, who carried large, circular bundles of hand-woven straw shoes on their shoulders when they moved from place to place. As they journeyed and as older shoes wore out, they exchanged their shoes for new ones. Adjusting the pack that they carried, they changes shoes many times, as the straw, like burlap, wore away easily.
BIO
Bonam Kim is a sculptor based in Brooklyn, NY. She received her BFA and MFA degree from Hong-ik University in Seoul, South Korea. In 2016, she completed her second MFA in sculpture from Pratt Institute in Brooklyn, NY. She was featured as an emerging artist from DongBangYoGae, Art in Culture magazine in Seoul. Also, she was nominated for the Dedalus Foundation MFA Fellowship. She has participated in the residency program at Trestle Art Space in Brooklyn, NY (June – December, 2016) and awarded the Stutzman Family Foundation Graduate Fellowship for her residency at the Vermont Studio Center in Johnson, VT (February, 2017). She has recently completed a three-month residency at NARS Foundation in Brooklyn, NY (April – June, 2018) and the Wassaic Project in Wassaic, NY (October, 2018).