current exhibitions | upcoming exhibitions | past exhibitions
EMILY OLIVEIRA: Dick Van Dick: Everything Louder Than Everything Else
Opening Friday, October 12, 2018, 6-9PM
On view October 12 – November 10, 2018
Installation images available here.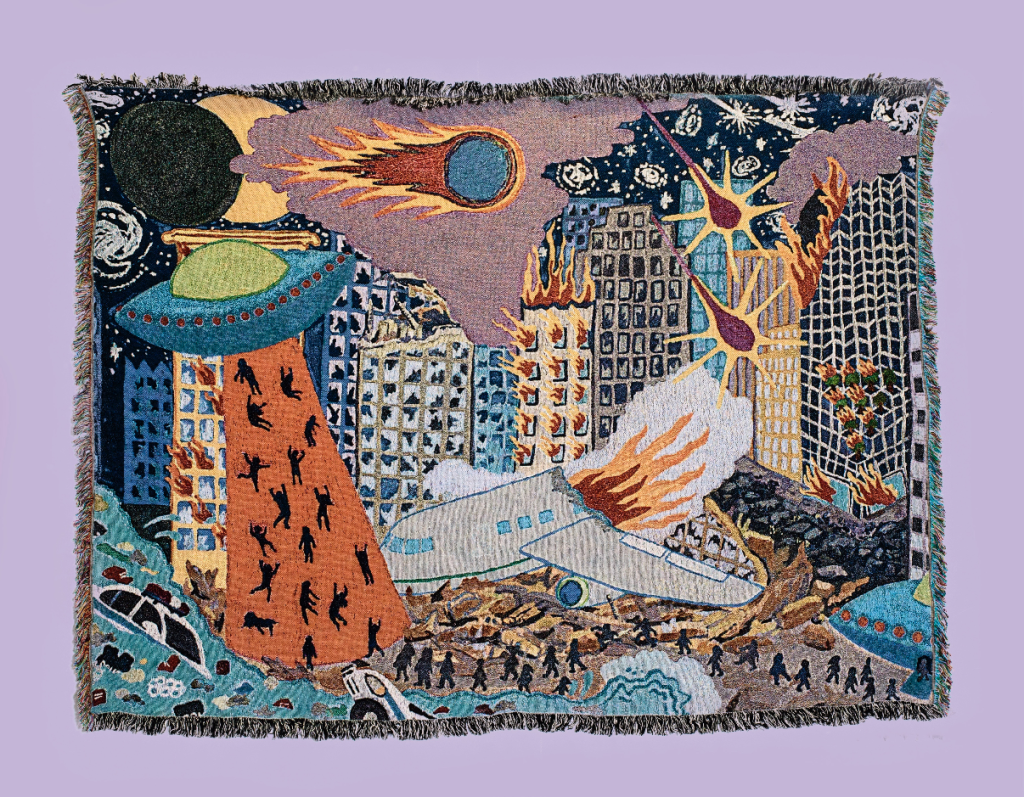 Image: The Tower: Danger, Crisis, Sudden Change, Destruction, Higher Learning, and Liberation
SOHO20 is pleased to present Dick Van Dick: Everything Louder Than Everything Else, a solo project in its +/- Project Space or work by its 2018 Open Call Winner, Emily Oliveira.
Dick Van Dick: Everything Louder Than Everything Else is an exhibition of the costumes, furniture, and personal items of Oliveira's drag king persona, Dick Van Dick. Dick is an outlandish, Latino Liberace and extra-dimensional being. By using the aesthetics and curatorial language of celebrity-home museums, the installation deals with the pseudo-spiritual enshrinement of performers in American culture: pilgrimages to Graceland and Paisley Park replace those to Lourdes and Bethlehem. Dick's costumes blur, expand, and confuse the borders and materiality of his body. His furnishings are a high-low whiplash, and his personal items offer a glimpse into a complex personal narrative. The cheeky allusions to his alien-ness call to mind the ways in which a society that profits from the inventiveness of queer culture erases the queerness of artists. One of Dick's heavily sequined suits will be on display, along with outlandishly embellished decor "modeled after the designs in his Palm Springs Mansion." Souvenir candles in the shape of Dick's head will be on sale.
This project was chosen through a competitive open call with an outside jury, which included: Carla Hernandez (SOHO20's Board President / Programs Chair), Son Kit (Artist, past +/- Space exhibitor), Eva Mantell (SOHO20 Artist Member), Rachel Steinberg (former SOHO20 Gallery Director), Doris Zhao (Curatorial Assistant, Studio Museum in Harlem).
Emily Oliveira is a Brooklyn-based textile artist, performance artist, and designer. She is a graduate of the Rhode Island School of Design, and studied performance at Brown University. She uses labor-intensive craft mediums to explore gender, race, sexuality, and the marginalization and erasure of women's labor. Her work has been shown at SPRING\BREAK, Space Heater Gallery, Disclaimer Gallery, and the Museum of Arts and Design. Her performances use original and popular music, extravagant costumes, and narratives lifted from pop culture to dissect and explode American culture and history. She has presented evening-length performances at Ars Nova, Dixon Place, Brown University, and the Judson Memorial Church, and short performances at spaces across Brooklyn and Manhattan. Her costumes have been shown at the Center for Performance Research, The Parlour, Judson Memorial Church, Invisible Dog, and Theater for the New City. She has been awarded grants and residencies by Ars Nova Maker's Lab, AIR Gallery, The Museum of Arts and Design, The Corporation of Yaddo, and BRIC. She is a 2019 New York Community Trust Van Lier Fellow at Wave Hill.
Gallery hours are Thursday-Sunday, 12-6PM. SOHO20's +/- Project Space exhibitions have been generously funded in part by the NY Department for Cultural Affairs, and Lagunitas Brewing Company.