current exhibitions | upcoming exhibitions | past exhibitions
EVA MANTELL: wreckstasy (exhibition and reading series)
Opening Friday, Nov. 16, 6-9pm
On view Nov. 16 – Dec. 15, 2018
Installation images available here.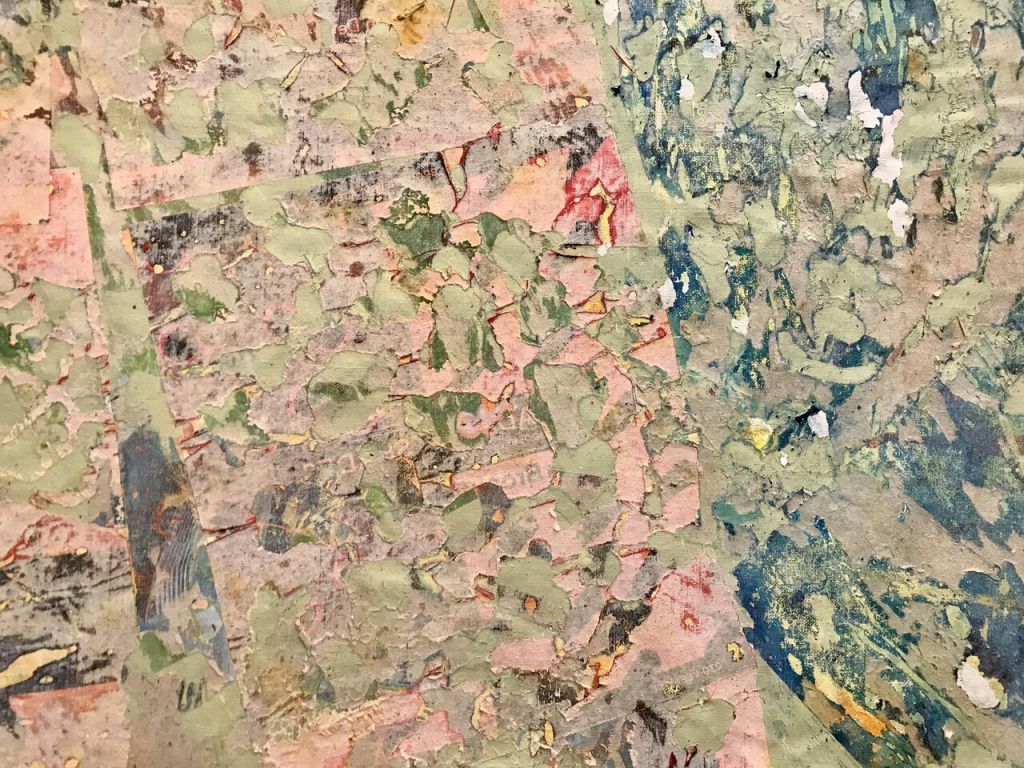 SOHO20 is pleased to present wreckstasy, an exhibition of new works by Princeton-based member artist Eva Mantell.
A series of collaged, painted, and peeled layers of magazines and other articles appear visually as weathered billboards. Mantell formed these works in her backyard throughout the past year's seasons, inevitably subjecting them to multifarious conditions: sun fading, frost, snow, rain, intense wind, drying out, curling up, wetting down, and the like. For her, to work outside was not only to willingly request that nature be a dutiful collaborator, but also to submit to and acknowledge the uncertainty of its ways. Mantell notes that this ecological uncertainty parallels the kind of personal losses experienced in any life: be they the passing of a loved one, or the inevitable process of life changes.
Reflective of Mantell's desire for the work, the exhibition's title conjoins the scientific term, "rhexistasy" (a geological word of Greek origin indicating intense erosion), with the multiple psychological and historical implications of the word "wreck." As such, her work seeks to hold both the precarity of our ecological future, as well as the palpable feelings of loss that one may experience in reflecting on this dubiety. She notes her own and close friends' loss when considering this aspect of the work.
In "On Common Sense," a recent video talk for the online journal, The Edge, MIT-based art historian, and co-author of the book Picturing Science, Producing Art, Caroline A. Jones expresses her frustration that art must begin to perceive itself within a broader spectrum of history and move towards "interspecies symbiosis," lest there be no human future in which to appreciate the arts. "These concepts are available and fully elaborated upon by, say, a biologist… but they're still not central to the paradigm."
Similarly with this current work, Mantell poetically holds the considerations of the sciences, alongside their emotional, aesthetic, and personal resonances.
Wreckstasy: a Reading Series: 2-4PM, Saturdays Nov. 17, Dec. 1, Dec. 8, and Dec. 15.
Workshop images available here.
In conjunction with this exhibition, Mantell has invited writer Betsy Andrews to curate Wreckstasy: a Reading Series, which will take place on four consecutive Saturdays: Nov. 17, Dec. 1, Dec. 8, and Dec. 15, from 2-4PM. For a complete event schedule, please visit: https://www.facebook.com/pg/soho20gallery/events/.
BIO:
Eva Mantell has exhibited widely, including at the Hunterdon Museum, Monmouth Museum, Jersey City Museum, Brooklyn Museum, ICA Boston, Institute Library (New Haven), Bernstein Gallery at Princeton University, Mount Airy Contemporary (Philadelphia) and more. Her artwork is concerned with the changes that can occur when simple rules and gestures engage with the possibilities of everyday materials. Imposed restrictions allow for a heightened sense of the potential for small transformations to evolve into new structures. With a focus on single materials and through working in series, the work contains the suggestion of the scientific and the anthropological gaze. Questioning the interrelatedness of nature, technology and culture, the work touches on making visual a sense of discovery about the experience of perception, thought and emotion. A direct and tactile engagement with materials informs her diverse work in sculpture, painting, video and performance. BA University of Pennsylvania, MFA, School of Visual Arts, NYC, Eva has been a member of SOHO20 since 2017. Living and working in Princeton, NJ, she teaches at the Arts Council of Princeton and of West Windsor, and is an instructor at Creativity House at Rutgers University. She has led professional development at Teachers as Scholars at Princeton University, Society for Arts and Healthcare, Visual Arts Center of NJ, College Art Association and the National Center for Creative Aging (WA, D.C.).
IMAGE: detail, Rhexistacy, 2018, acrylic paint and magazine pages on linen