Getting Basic: How To Write an Artist's Statement
Sun. April 8, 4-6pm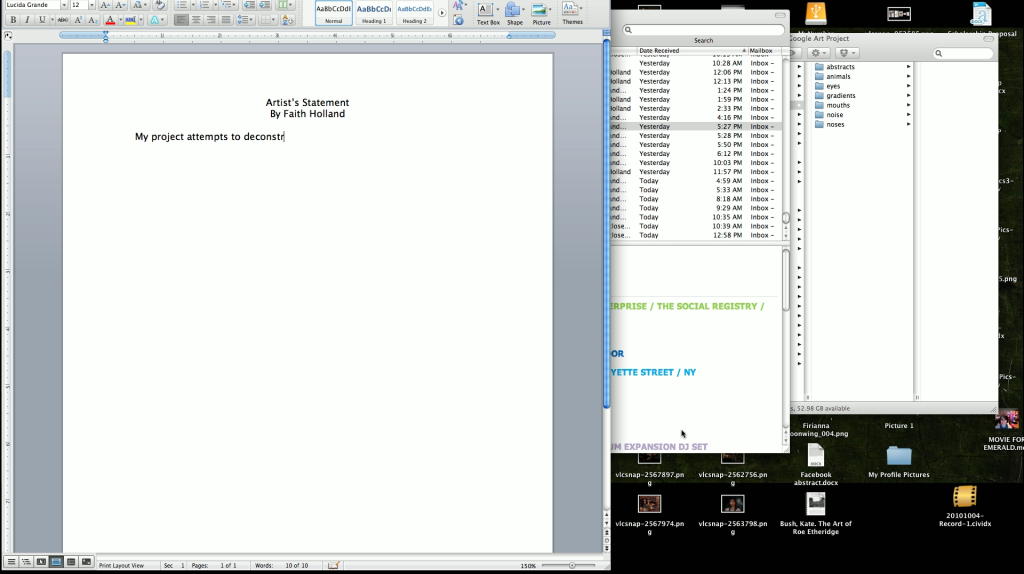 Image: Faith Holland, Artist's Statement, digital video, 2011
SOHO20 and The Feminist Art Project (TFAP) NYC are pleased to present the fifth event in the Getting Basic series: How To Write an Artist's Statement. Whether writing for an exhibition proposal, residency application, or just updating a website, writing can often be the most challenging part of communicating an artwork or practice. During this session, we will hear advice from curators, writers, and arts professionals on best practices for writing about one's work.
Attendees will have the opportunity to meet one-on-one with the panelists for specific feedback on individual statements. Please come prepared with specific questions and/or drafts of your statements. Meetings with panelists will be limited to 10 minutes each and will be on a first-come basis. This event will be free and open to the public, but we ask that you RSVP to [email protected]. All are welcome but priority will be given to women, trans, and non-binary artists.
Panelist Bios:
Loney Abrams is an artist living in Brooklyn. She has a collaborative studio practice with her husband Johnny Stanish. Abrams and Stanish also run a gallery called Hotel Art Pavilion. Loney is the editor-in-chief of Artspace Magazine. She received her MFA from Pratt Institute in 2013.
Heather Darcy Bhandari is an independent curator and co-founder of The Remix (a project-based curatorial team), an adjunct lecturer at Brown University, and a consultant to several for-profit and nonprofit arts institutions. The second edition of her book, ART/WORK, was published by Simon and Schuster in October of 2017. Bhandari also lectures and participates in portfolio reviews and panel discussions across the country. She is on the board of directors of visual arts at Art Omi (an artist residency in Ghent, NY) and the advisory boards of artfcity (an online, art-related publishing platform), CODIFY Art (a multidisciplinary collective of QTPOC artists), and Trestle Gallery in Brooklyn. She was on the board of NURTUREart for nearly a decade. From 2000 to 2016 she was a director of Mixed Greens, a commercial gallery where she curated over one hundred exhibitions while managing a roster of nearly two-dozen emerging to mid-career artists. Most recently, she was the Director of Exhibitions at Smack Mellon, a nonprofit in Brooklyn. Bhandari received a BA from Brown University and an MFA from Pennsylvania State University. Her career began at contemporary galleries Sonnabend and Lehmann Maupin, both in New York City.
Naomi Lev is a writer and curator based in New York. Lev writes about politically infused contemporary art, and currently focuses on female artists. She was a contributing editor at Creative Time Reports (2015-2016), and has contributed to international magazines such as ARTFORUM.com, Artcritical.com, TOHU Magazine, and BOMB Magazine, among other publications. As a curator she specializes in organizing collaborative art events that connect artists, curators, and scholars from around the globe. She has previously hosted a series of talks at Independent Curators International (2013-2014); curated a conversation and performative-monologue with Jonathan Meese at the Tel Aviv Museum (2013); and artistically directed a series of talks and panels with Vito Acconci at Bezalel Academy and Beit Berl College (2011). Recent curated shows include: "Headlines" (SPRING/BREAK Art Show, 2018), "With Passion" (NY), "in, side – throughout" (NY), and "Preliminary Study: RSI-T" (NY and MI). Lev is dedicated to supporting artists in their process, and promotes rights for creators and women in the field. She is the founder and curator of "The Girls' Group" as well as "Artistsandwriters4ever.com" – online and offline platforms that connect artists and art-professionals. Lev holds a BFA in Fine Arts from Bezalel Academy of Art and Design in Jerusalem, and an MFA from the Art Criticism & Writing program at the School of Visual Arts in NYC.