Getting Basic: Misappropriation, Plagiarism, Fair Use, and Grey Areas
Fri. February 2, 7-9pm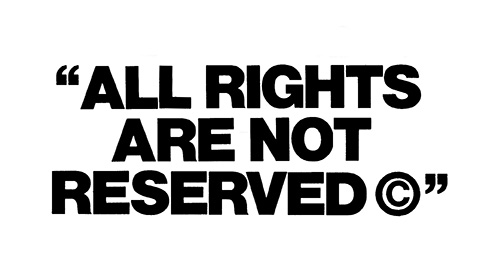 Typeface: Helvetica Black (from The Artist's Reserved Rights Transfer and sale Agreement by Seth Siegelaub)
SOHO20 and The Feminist Art Project (TFAP) NYC are pleased to present Getting Basic: Misappropriation, Plagiarism, Fair Use, and Grey Areas, a panel and discussion hosted by artist Sue Jeong Ka about the issues surrounding copyright, power, and the unfair appropriation of individuals' work in art, pedagogical, and institutional settings.
Questions of artistic originality and authorship among teachers, students and peers have spurred constant debate in contemporary art. Such problems within institutional structures are complex when uncredited labor, and violations of artists and cultural workers' moral rights run rampant in a competitive art world. This system perpetuates asymmetrical power relations, depriving vulnerable contributors due credit and compensation for their labor. This event is a forum for collecting insights and stories from artists, architects, curators, educators, entrepreneurs, lawyers, scholars, and workers about ethical art practice.
This event is inspired by moderator Sue Jeong Ka's own experience with appropriation within the higher education system, and is meant to provide both an awareness and resources for other artists and academics. During this discussion, Allison Harbin, the blogger of Post PhD and Alt-ac PhD in Art History, will share her personal story of misappropriation by a faculty member on her dissertation committee (detailed on her blog), and discuss the questions that have been raised from that experience, such as: What place (if any) does ethics have in the culture of academia and the arts? Is there a possibility for agency for those in precarious positions within those systems? What does the fight for justice actually look like? To offer a context of these questions, Lauren van Haaften-Schick (PhD Candidate in the History of Art at Cornell University) will discuss artists' contracts in historical perspective, with a focus on exhibition and resale rights. These two voices will be joined by Alia Sonara, an art lawyer, who will explain the difference between copyright infringement vs. plagiarism and copyright vs. fair use. She will discuss "fixation," and what it means to have copyrights to material in the first place.
+++
Allison Harbin holds a Ph.D. in Art History, where she studied intersectional feminism and contemporary women artists from South Asia and the Caribbean. Following her defense, she launched a blog detailing the abuse of power and negligence towards graduate students in Higher Education (www.allisonharbin.com/post-phd). The blog was initially designed to give general advice for those with Ph.D.'s wishing to leave academia, but following the publication of her personal story, the blog quickly became a wider platform to advocate for the rights of graduate students, and the legal responsibilities of faculty owed to those graduate students. She is currently a freelance writer living in Brooklyn.
Alia Sonara has a B.A. in Philosophy from Johns Hopkins University, a J.D. from University of Chicago Law, and is a successful fine artist and designer. As an artist, she makes wearable fine art pieces and designs garments under Sister from the West™ brand, which presented at Fashion Week in Turin, Italy in 2017. Her experience bringing her own artwork to the market convinced her that artists and designers need better legal representation. Accordingly, in private practice, she routinely represents artists and designers as well as a variety of creative business clients.
Lauren van Haaften-Schick is a PhD Candidate in the History of Art at Cornell University, where her research considers intersections of art and law, including artists' contracts, art as property, and the history of artists' rights laws. Core interests include the career of Seth Siegelaub, Conceptual art, Institutional Critique, the history of art and book markets, and the political economy of art. Her numerous curated exhibitions include "Non-Participation" (2014-16) and "Canceled: Alternative Manifestations & Productive Failures," (2012-2014) which traveled in the US and abroad. From 2015-2017 she was Associate Director of the Art & Law Program, New York, and was a Curatorial Fellow in 2012. Lauren has received grants from the Mellon Foundation and the Terra Foundation for American Art among others, and has been a guest speaker at universities and art institutions internationally. She has previously worked as a curator, gallerist, archivist, researcher, grantmaker, and printmaker, and received a BA in Studio Arts and Art History from Hampshire College. www.laurenvhs.com
Sue Jeong Ka is an interdisciplinary artist. Currently, with the support of her colleagues, Ka has been organizing a series of discussions that deals with issues around plagiarism, educator ethics, and power abuse in cultural institutions. Ka's interests lie at the intersection between social practice and institutional critique that experiment with alternative protocols for underserved communities and art and public institutions. She has participated in the Whitney Museum Independent Study Program, the Drawing Center Open Sessions, the Art & Law Program at Fordham Law School, More Art in NY and SOMA Summer in Mexico D.F. Her work has been shown at the Queens Museum, Elizabeth Foundations for the Arts, Abrons Art Center, La Mama Galleria, Alumnos 47, Hunter College Times Square Gallery, and many others. One of her most recent projects: ID Shop had been awarded grants by The Laundromat Project, the Awesome Foundation, More Art, and the Foundation for Contemporary Arts and she held the workshops, ID Shop: Round Robin for queer youths and youth of color at Joan Mitchell Foundation, Hamilton Madison House, and Sylvia's Place – one of the only shelters in the city that accepts youth directly off the street, without a referral. Ka lives and works in NY.
+++
Getting Basic is a series of workshops, panel discussions and instructional sessions to help women artists and artists of marginalized gender identities navigate the practical side of their studio practice. Each event will focus on a different professional area that artists typically struggle with as they navigate their way in the art world.
The Getting Basic series receives generous funding from EILEEN FISHER.