Inter/dependence: the game + To Make a Public book launch
Friday, December 2, 2016
7-9pm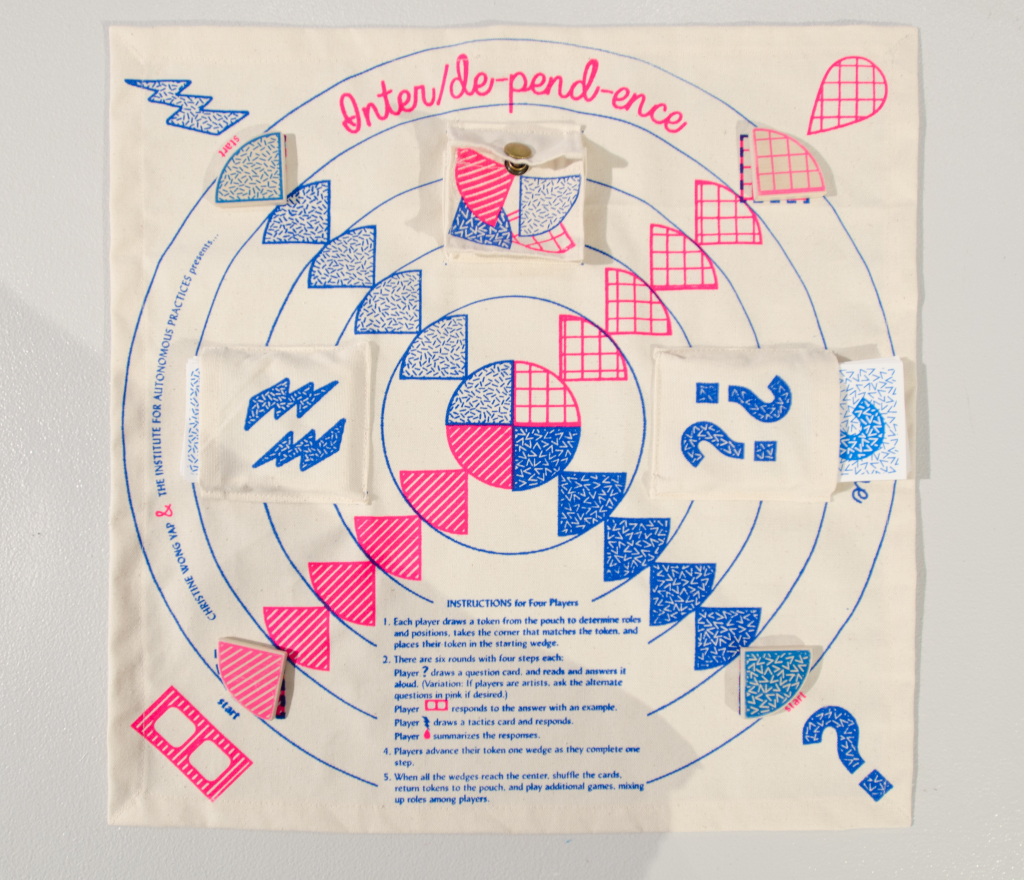 SOHO20, along with Christine Wong Yap, Sarrita Hunn, and Temporary Art Review are pleased to present "Inter/dependence: the game" a participatory performance lecture and book launch for To Make a Public: Temporary Art Review 2011-2016.
"Inter/de-pend-ence: the game" is a board game for discussing how we practice autonomy and relatedness via questions, examples, tactics, and listening. It is a collaborative project by Christine Wong Yap and Sarrita Hunn (as The Institute for Autonomous Practices) and emerged from the artists' shared interests in mutualism, agency, and artists' roles.
"Inter/de-pend-ence: the game" includes a general variation as well as one specifically for artists and was screen printed in an edition of two by Yap at Kala Art Institute in Berkeley, CA. The game's variations for artists originate from a research project beginning with the Yap's "Artists' Personal Impacts Survey" to explore positive psychological benefits of art practice. The findings, based on responses from 112 visual artists, were presented in an essay and nine data visualizations in the 20-page "Inter/dependence" 'zine, four hand-drawn Venn diagrams, and a flag to represent how peer artists comprise a more desirable and empowering art world.
Additionally, this event includes the launch of To Make a Public: Temporary Art Review 2011-2016, a selected anthology of the first five years of the online publication and a catalogue of the related exhibition Document V celebrating the same benchmark, recently published by Institute for Connotative Action Press. Temporary Art Review is a platform for contemporary art criticism that focuses on alternative spaces and critical exchange among disparate art communities. It is an international network, highlighting both practical and theoretical discourse through reviews, interviews, essays and profiles on artist-centered spaces and projects.
To Make A Public parallels Temporary Art Review as an ever expanding project, a text in multiple forms, embedded within overlapping contexts and histories. To Make a Public summarizes the collective research of a group of artists, curators, observers, activists and critics who test the boundaries of art and other fields – not only to define, defend and expand that space, but to develop, improve, and bring those methodologies back to the public sphere – to make a public, perhaps, in its accumulation. These works serve both as evidence, or documents, of larger maps of relations, and as models of common activities, habits and procedures that aim to sustain themselves, at least temporarily.
This event will take the form of a participatory performance lecture centered around "Inter/de-pend-ence: the game" and will include recent contributors to Temporary Art Review Colleen Asper, Ben Kinsley, Jessica Lynne (ARTS.BLACK), and Ryan Lee Wong.
To Make a Public: Temporary Art Review 2011-2016 has been published by Institute for Connotative Action Press (INCA Press) and was designed by Haynes Riley. Additional titles from INCA Press will also be available including Forms of Education: Couldn't Get a Sense of It and Free as in Free… published on the occasion of the 11th Gwangju Biennial in collaboration with Publication Studio.
+++
Colleen Asper is an artist whose work has been shown internationally. Recent exhibitions include a solo show at On Stellar Rays, New York, NY (2016); the debut of a work with Marika Kandelaki as part of the New Commissions Program at Art in General in New York, NY (2016); a two-person show at K., New York, NY (2015); and group exhibitions at P!, New York, NY (2015); The Drawing Center, New York, NY (2015); Queens Museum, Queens, NY (2015); The Noyes Museum of Art 
of Stockton College
, Oceanville, NJ (2015); and Anahita Art Gallery, Tehran, Iran (2015). Her work has received numerous reviews by publications that include Artforum, The New York Times, and The New Yorker and she has contributed writing to publications that include Art in America, Lacanian Ink, and Paper Monument.
Sarrita Hunn is the co-founder and managing editor of Temporary Art Review. Her often collaborative practice includes hybrid roles as maker, writer, critic, editor, curator, organizer, administrator, educator, and designer, with a focus on the culturally, socially, and politically transformative potential of artist-centered activity. She received a BA in Studio Art, Art History, and Philosophy from Drury University in 2001, an MFA in Fine Arts from California College of the Arts in 2004, and attended Skowhegan School of Painting and Sculpture in 2006. Recent projects include Many Mini Residency: Mexico City with the artist-run non-profit GyB ByG and FLOAT 2015: Tactical Walking Camp (An Imperative to Map), the second in an annual series of short-term gatherings organized with The Luminary in St. Louis, MO, that utilizes innovative residency structures to create intensive points of exchange. Additionally, she is the director of the Summer Institute for Visual Arts at Drury University in Springfield, MO.
Ben Kinsley's projects have ranged from choreographing a neighborhood intervention into Google Street View, directing surprise theatrical performances inside the homes of strangers, organizing a paranormal concert series, staging a royal protest, investigating feline utopia, collecting put-down jokes from around the world, and planting a buried treasure in the streets of Mexico City (yet to be found). His work has been exhibited internationally at venues such as: Queens Museum, NYC; Cleveland Museum of Art; Museum of Contemporary Art (MOCA) Cleveland; Bureau for Open Culture; Mattress Factory Museum, Pittsburgh; Flux Space, Philadelphia; Katonah Museum of Art, NY; Green on Red Gallery, Dublin; Centro di Cultura Contemporanea Strozzina, Florence; La Galería de Comercio, Mexico City; Catalyst Arts, Belfast; and ZKM Museum of Contemporary Art, Karlsruhe. He has been an artist-in-residence at the Skowhegan School of Painting and Sculpture; Bemis Center for Contemporary Arts; Skaftfell Art Center, Iceland; Askeaton Contemporary Arts, Ireland; The Luminary Center for the Arts; and Platform, Finland. He holds an MFA from Carnegie Mellon University (2008) and a BFA from the Cleveland Institute of Art (2005).
Jessica Lynne is a Brooklyn based writer and arts administrator. She received her BA in Africana Studies from NYU. She has been awarded residencies and fellowships from The Sarah Lawrence College Summer Writers Seminar, Callaloo, and The Center for Book Arts. Jessica has contributed to publications such as Art in America, The Art Newspaper, The Brooklyn Rail, Hyperallergic, and Pelican Bomb. She's on twitter and Instagram at @lynne_bias. She is a founding editor (along with Taylor Renee) of Arts.Black, a journal of art criticism from Black perspectives.
Ryan Lee Wong is a writer and cultural organizer based in Brooklyn. He is the Managing Director of Kundiman and a Visiting Scholar at the A/P/A Institute at NYU. He has served as a visiting critic at RISD, Assistant Curator at Museum of Chinese in America, and an exhibitions administrator at the Metropolitan Museum. He organized the exhibitions Serve the People: The Asian American Movement in New York at Interference Archive and June 4, 1989 at Museum of Chinese in America. He has contributed writing to The Village Voice, The Brooklyn Rail, Temporary Art Review, the New Museum Triennial 2015, and Hyperallergic.
Christine Wong Yap is a project-based artist who makes installations, sculptures, drawings, and participatory projects to spark and sustain attention to emotional experiences. She holds a BFA and MFA from the California College of the Arts. Her work has been exhibited in the San Francisco Bay Area, as well as in New York, Los Angeles, Manila, Manchester U.K., Poland.
She's currently a 2016 Workspace Artist-in-Residence at the Center for Book Arts (NYC). A recent Kala Fellow, her work is on view at Kala Art Institute (Berkeley, CA) through October 15, 2016. Born in California, she was a longtime resident of Oakland, CA and currently lives in Queens, NY.