current exhibitions | upcoming exhibitions | past exhibitions
CANSU KORKMAZ: Quite a While
Opening Friday, March 15, 2019 6-9PM
Artist talk, with Osman Can Yerebakan and Janna Dyk: Saturday, April 6, 5PM
On view March 15 – April 14, 2019
Curated by Janna Dyk
Installation images available here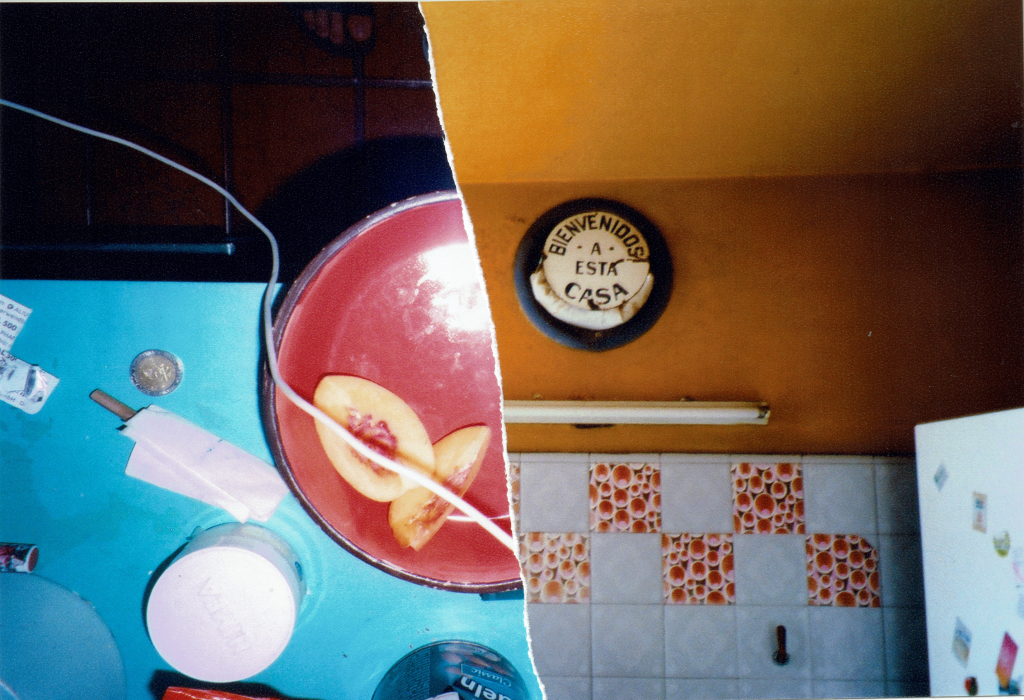 SOHO20's +/- Project Space is pleased to present Quite a While, an installation of photographs by Brooklyn-based Turkish artist Cansu Korkmaz. The works explore the artist and her partner's relationship as it adapts to their shifting terrains while living in Istanbul, Buenos Aires, and eventually New York.
In this a NY debut of her work, Korkmaz presents the emotional gesture of ripping down the center of a sizable stack of photographs as a space for philosophy. Torn into a handful of piles by her partner after an exasperated exchange, the photographs trace a consistent line of breakage down their centers, allowing Korkmaz to repair the images by conjoining new halves together in myriad pairings. The process of mending speaks to the perseverance of their relationship as well as to an urge to re-contextualize frustrated memories, embracing the irreversible yet formative impact of wounds.
"My idea was to live with those broken pieces in heart and mind. After the photographs were ripped, I had to find forgiveness for what happened. I decided to bring the pieces together as new memories," explains Korkmaz. The resulting reassembled pictures index these intricate moments of loss and resolve.
One of many such juxtapositions combines a plate of luscious peaches left in the couples' bedroom in Buenos Aires, with a view of their kitchen in Uruguay, the most prominent feature of which is a welcome sign in Spanish, "Bienvenidos a esta casa." Other images alternate between interior and exterior scenes, with equity to fragments of the couples' bodies, as to a stuccoed wall with a bursting splash of graffiti.
Unifying the images, salon style, the artist alternates the final printing sizes according to the space that each occupied in her memory, allowing photographs that loomed more largely in her recollection to occupy more of the viewer's space as well. In so doing, Korkmaz speaks to the complexity of love and attachment, and to the mind's resilient capacity to also reassemble, arrange, and mend.
Turkish-born artist Cansu Korkmaz (1989, Istanbul) lives and works in Brooklyn. She graduated from Bahcesehir University in 2013 with a Bachelor's degree in Photography and Video. Korkmaz was a School of Visual Arts' Photography and Video-Artist Resident in 2018. Recent exhibitions include "Becoming Cure As Care," at Daire Gallery (Turkey) and the SVA Residency exhibition at Gramercy Gallery. Other exhibitions include "Mini Çarşı-Mini Market" at Poligon in 2016, and "The lives of others," for the International Photography Festival in 2015. She was selected for a personal documentary workshop with an artist at SALT. Korkmaz has made two books, including SILENCE (2015) and G arip Bir Enerjin Var (2013). Her work has been featured frequently in Turkish by Voice of America, VATAN, Artful Living, Culture Limited, The Guide Istanbul, Orta Format, KEINmag, XOXO Mag, Bantmag, and Elele, among others.
SOHO20's exhibitions are supported in part by the New York Department of Cultural Affairs, and Lagunitas Brewing Company.