Kyoung Eun Kang: every morning and every evening
November 17 – December 22, 2017
Opening Reception: Fri. November 17, 6-9pm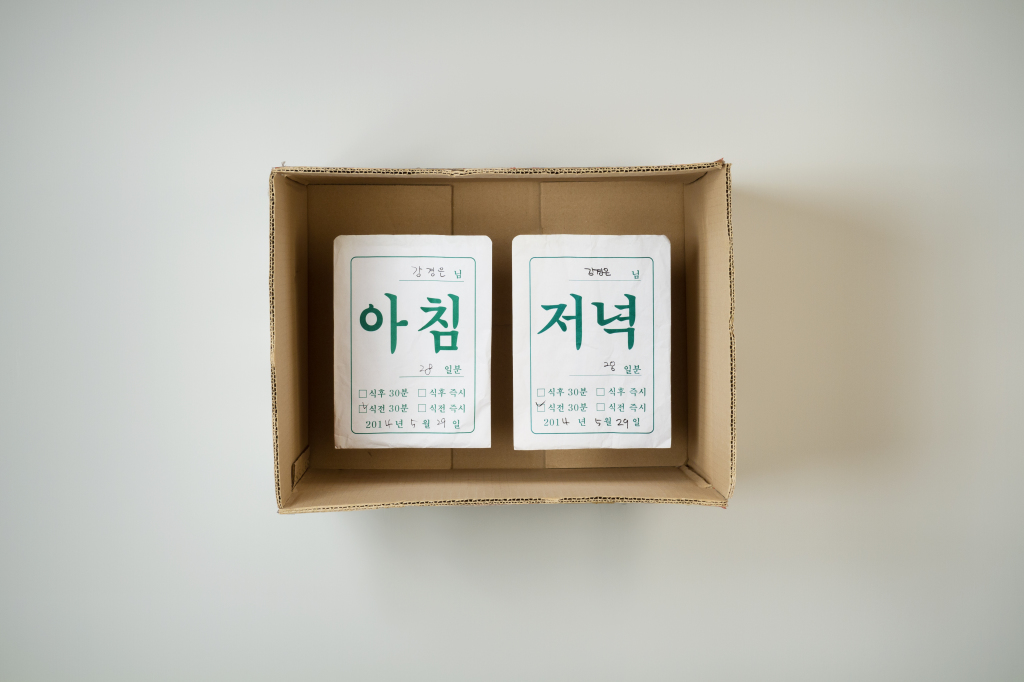 Image: Care package I, 2017. Pharmacy envelopes, a cardboard box, 14 x 19.5 x 19.5 inches.
The installation for the +/- Project Space is part of an ongoing project by artist Kyoung Eun Kang, in which she unpacks the contents of care packages sent to her from her mother in South Korea. In this iteration, Kang presents us with four boxes, each flipped open and upright in diorama format to reveal the contents. Inside, she has edited and rearranged the sent objects – towels, dried anchovies, stones, bottles, pharmacy envelopes, detergent, hot pepper powders, creating still lives and landscapes from quotidien wares. Each box itself is as much a part of the work as its contents, down to the intentionally positioned flaps.
The project's title comes from the use instructions on a pharmacy envelope. Although the items sent in each package are basic – nothing that can't be found somewhere in New York City, each one carries something from home – a texture, a scent, a design, a reference. In collaboration with her family, Kang creates containers that carry time, care, and distance; that embody routines as well as relationships. It is the binding banality of family and history that tethers a person to the seemingly ignorable objects, tools, and flavors in our lives, whether chosen by us or not.
+++
On Fri. December 1 SOHO20 will host a performance as part of this installation, where Kyoung Eun Kang will attempt to intuitively match the footsteps of her mother, wearing her mother's shoes that don't fit, sent to her in a care package.