Luiza Kurzyna: Rock me, Baby
October 13 – November 13, 2016
Opening Reception: Fri. October 14, 6-9PM
VIEW IMAGES OF THE INSTALLATION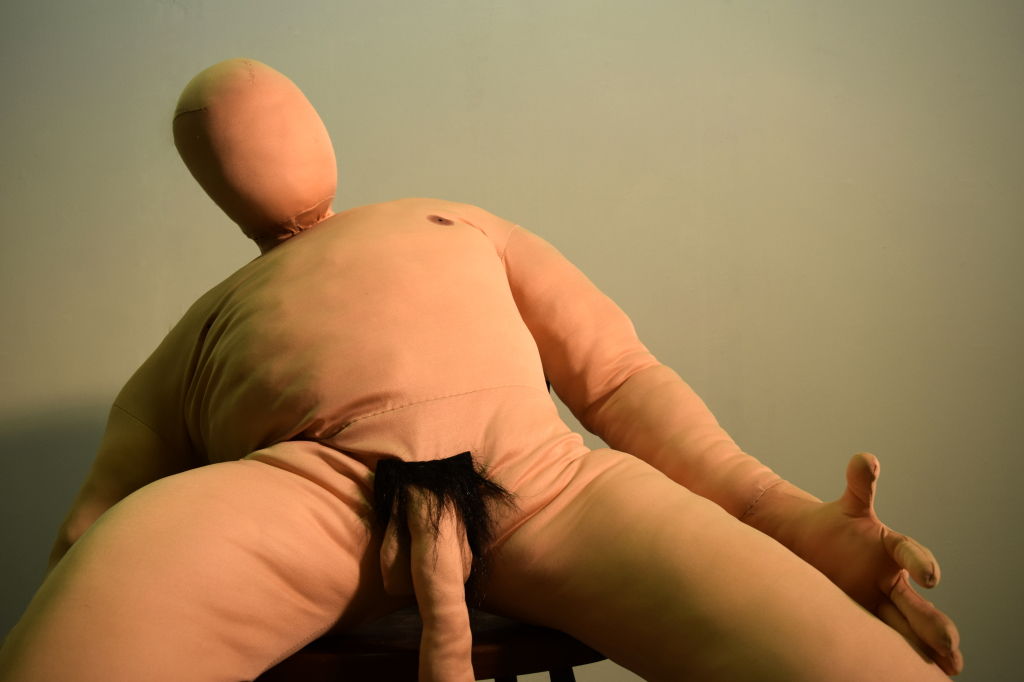 SOHO20 is pleased to present Rock me, Baby, an installation and performance created for the +/- Project Space by artist Luiza Kurzyna.
The main feature in Kurzyna's new installation is a "man" – a soft, life-sized sculpture, mimicking a male body in the most basic and general of terms, situated within an equally common, intimate environment. Using this humorously stuffed bodysuit, she has crafted a potential mate – less the typical object of desire than a well-endowed, blank substitute, upon which one can project coupling fantasies. This lumpy stand-in, lacking any discernible facial features, rides the line between grotesqueness and levity by allowing the viewer to determine the artist's level of sincerity.
Employing a deadpan humor in an attempt to reverse the typical gender roles in the objectified/objectifier relationship, the piece suggests a homemade RealDoll gone slightly awry. Referencing the male gaze in works such as Manet's Olympia, but also the hyperbolic form of the Venus of Willendorf, Rock me, Baby comments on our underlying societal standards of attraction. Part fantasy, part self-aware playfulness, Kurzyna's friendly frankensteined creation lightly mocks the order of romantic relationships while still yearning after them. The overly generic nature of the sculpture's physicality further invites the viewer to project his/her own romantic desires onto this otherwise inanimate, unlovable body, which is staged and waiting for a fantasy to subsume it.
+++
On Friday, October 28, the Artist performed a playful choreography to George McCrae's "Rock Your Baby" along with her "man."