current exhibitions | upcoming exhibitions | past exhibitions
MOKO FUKUYAMA: Untitled (Diorama)
Opening Friday, Nov. 16, 6-9pm
On view November 16 – December 15, 2018
Installation images available here, or at the artist's website.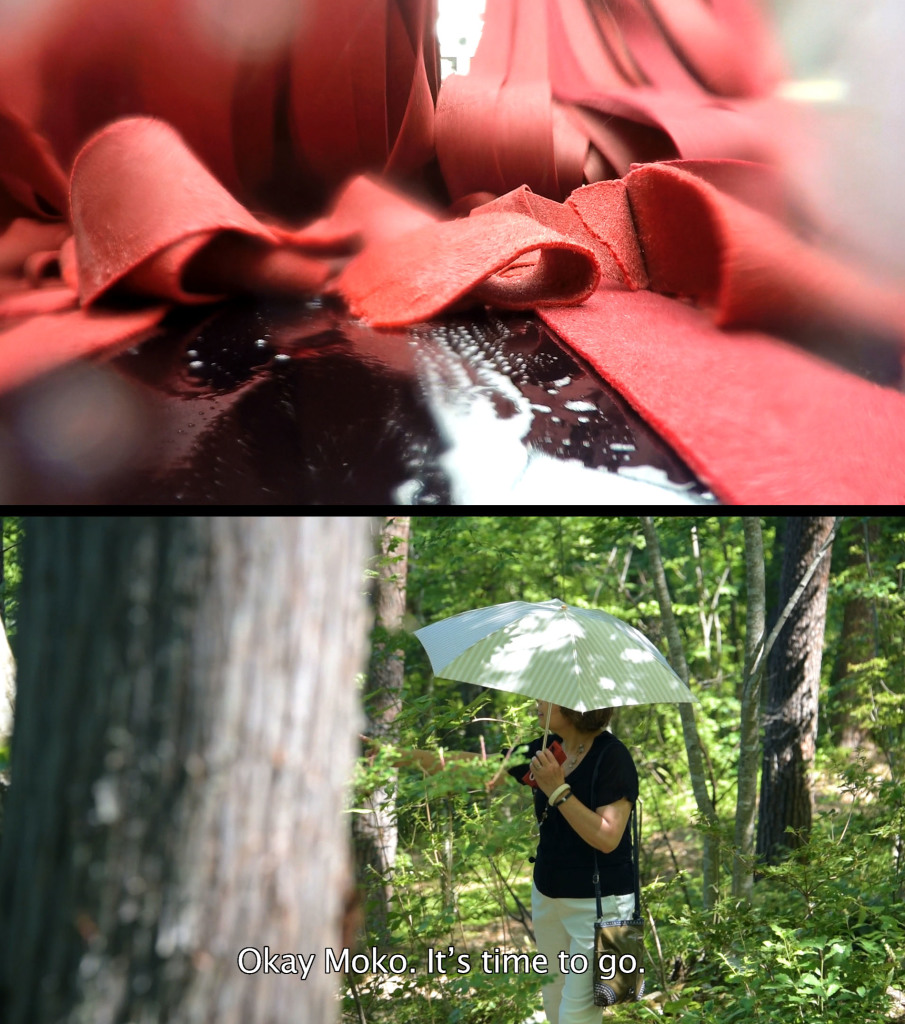 SOHO20 is pleased to present Untitled (Diorama), by Moko Fukuyama, one of the +/- Project Space's three open call artists.
Untitled (Diorama) relates longevity and mortality to one of our most ubiquitous modern processes: the automatic car wash. This sculptural and video installation, reminiscent of a diorama, evokes the passage of an automobile through its cleaning process. Framed by car wash bristles, looped video shows the artist's own mother as she visits her future burial site, where she invites the artist to one day join her. This rite of passage, as mundane and practical as going to a car wash, embodies a certain poetic resignation: a bittersweet suspension of time. Fukuyama brings together living and dying, juxtaposing the natural and synthetic, as well as the inertia of life and the stillness of memory. Untitled (Diorama) is a meditation on passing from one state to another, being carried effortlessly forward in a vessel on a track to a new habitat.
Functionally, the installation features a stark contrast of natural and manmade elements, showcasing the mechanisms of the car wash alongside the scenery of Japanese foothills, which are cultivated exclusively for human interment. As the artist's mother wanders along her future resting place, she inquires which plants are native or invasive to the area. (The work considers what, however, is considered to be invasive to a space where human corpses are interred.) The synthetic components of the installation are an homage to humankind's inherent imitation of nature. Accompanying the installation are watercolors of the aforementioned plant-life completed by the artist's mother on postcards similar to those she frequently mails to her daughter. The horticultural catalogue serves to contrast and underscore the reconstructed industrial setting, including the aromas of soap and car wax.
Untitled (Diorama) plays on our anxieties about death with the practical demands of burial planning between generations. "It's time to go," the artist's mother says, at the end of the video loop. Her words signify this eternal motion, a track through the natural process of life.
Bio:
Moko Fukuyama was born in 1981 in Chiba, Japan. She lives and works in Brooklyn, New York. Her approach to art making is quasi-documentary filmmaking, using real-life stories and adapting them into more fantastical cinematic and sculptural scenarios. Recent solo exhibitions include La Bohème, Tops Gallery, Memphis, Tennessee (2018); You Never Know What Idea You Might Have, Session at Recess, New York City (2017); and All Depends On The Source Of Light, SLA307, New York City (2016). Fukuyama is a 2015 Rema Hort Mann Foundation Emerging Artist Grantee, a 2017 MacDowell Colony Fellowship recipient, and a 2018 Yaddo resident. She is currently commissioned for a new project for The Shed's inaugural Open Call program.