current exhibitions | upcoming exhibitions | past exhibitions
NANA OLIVAS (Gallery 1)
Opening Friday, March 15, 2019 6-9PM
On view March 15 – April 14, 2019
Installation images available here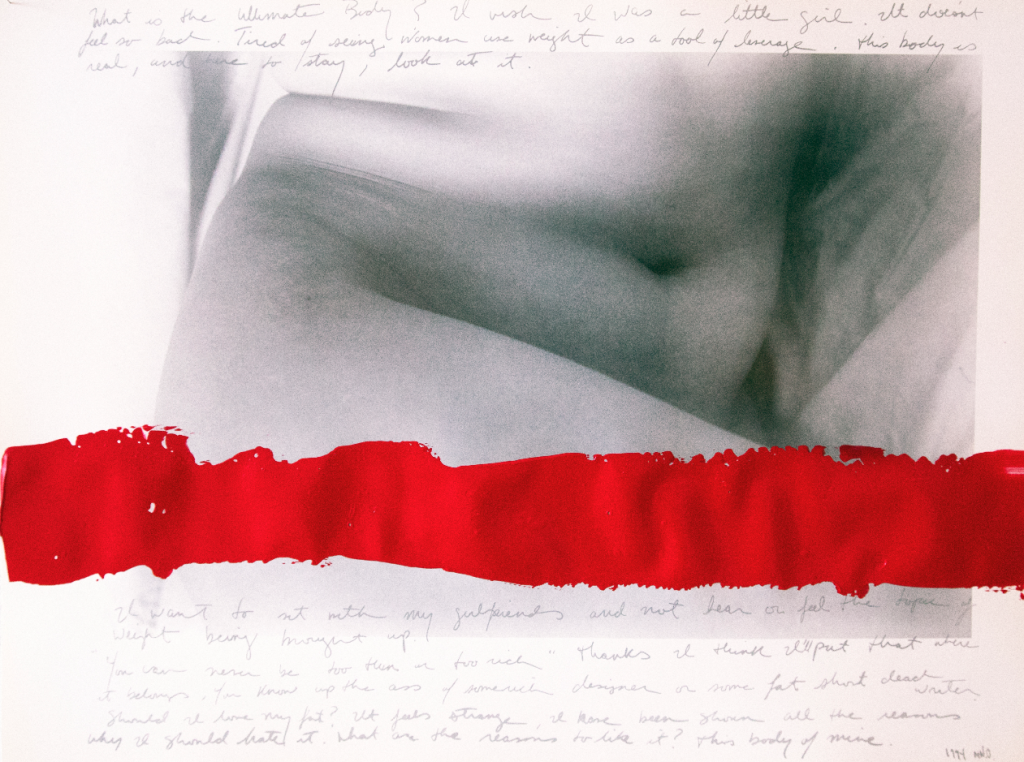 SOHO20 is pleased to present body as it is, a series of photographs and collages by Mestizo artist Nana Olivas.
Olivas, whose work often incorporates visceral textures or textual attestations that allude to the body and emotions, recently rediscovered this series of two repeating analogue black and white photographs. Made in 1994, the images depict the writhing midriff of a then 23 year old artist. Handwritten text, almost illegible, inhabits the photographs' aged, fading margins. As much a documentation of the artist's body of that time, as too an exploration of sensual agency and self-awareness, the photographs, exhibited for the first time 25 years later, carry a vulnerability that remains prescient.
Olivas' original intention in printing 100 of each work had been to plaster them across the City. Here filling the entirety of a wall, alternating between and repeating the images, they reiterate this desire to engage and empathize with another gaze. In marking the passing of 25 years since the photographs' original printing, the artist decided to rework some of the images, as much reflecting her current practice in 2019, as reaffirming the continuity of a bodily self that was, and still is.
Olivas' past shows as a member artist with SOHO20 include All Alone (2012), Pieces (2015), and you can finish me (2017).
Nana Olivas was born in New York City, and studied painting and art at The Art Students League, Parsons School of Design, and the School of Visual Arts. She has exhibited widely, including at the Bronx Museum, P.S. 122, Cristinerose Gallery, Emily Lowe Gallery, and many others. Her work has been featured on CNN, in Elle Décor, and on Newsday. Olivas lives and works in New York City, And she F*&#*ing loves being an artist.