current exhibitions | upcoming exhibitions | past exhibitions
NANCY RODRIGO: queering paracosmic a bit
Opening Friday, May 24, 6-9PM (Gallery 2)
Closing Reception: Saturday, June 22, 6-9PM
On view May 24 – June 23, 2019.
Installation images available here
SOHO20 is pleased to present queering paracosmic a bit, a selection of mixed-media drawings by Nancy Rodrigo.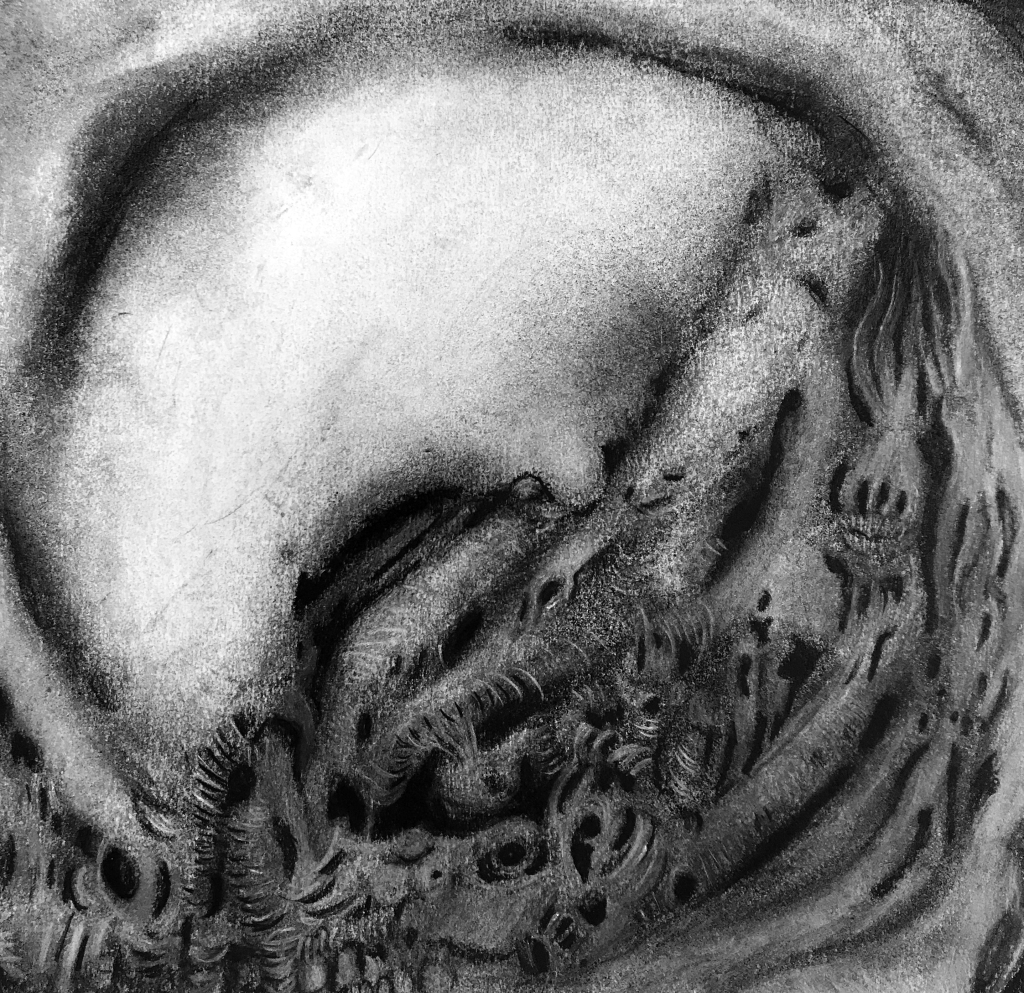 In the late 1970s British psychologists began using the term "paracosmic fantasy" to describe the elaborate and longstanding visual worlds most often instigated by highly imaginative children but that for such individuals regularly extended into adulthood. Well-known examples include Tolkien's "Middle-earth," the fantastical kingdoms fabricated by the Bronte siblings after the death of a family member, or Mark Hogencamp's extensive village of "Marwencol," created to rectify a brain trauma.
Culling from a host of references – among them, past traumas, Medieval illuminations, the current political climate, and medical illustrations, Rodrigo's drawings circulate within an intricate, oft-repeating, and interconnected cast of paracosmic characters, gestures, and abstract forms.
Visually Rodrigo's work oscillate labilely between referents, often hovering between multiple emotional states at once. Gummy vaginal canals drift into skeletal creatures, at once benign and fear-worthy; a scar-like seam may evolve into a branch, a sea urchin, or the details of a white supremacist garb. Similar to the simultaneously enticing and frightening mystical pictures of William Blake, or the surrealist skin-crawl of a Dali, dream and reality, harm and security, coexist.
Rodrigo's drawings find material from these emotional and political uncertainties while navigating their own biomorphic landscape, paracosmically reforming or recalibrating memories, reorienting the self's perceptions within the challenges of the present.
Please join us for a closing reception, on Saturday, June 22, from 6-9PM.
Bio:
Nancy Rodrigo (b. 1961 NYC) is a Brooklyn-based artist who emerged from the East Village gallery scene. Rodrigo studied at Hunter College School of Social Work, etching and engraving at the National Academy School of Fine Arts, and earned a BS in psychology and fine art from Empire State College. Negotiating her past experiences as a social worker, oncology researcher, activist, and lesbian mother, Rodrigo's drawings, paintings, and comics traverse residual memories that often comically inhabit near-paracosmic personas. Exuberantly colored biomorphic landscapes resemble waving coral sea-floors and soft, fleshy interiors, occasionally frequented by an obscure superhero or a scrawled star, seemingly by happenstance. Babies in hoagie-like blankets trade space on pages with syringes; genderless ghosts finger obtuse gaps waft off into hat-like disturbances resembling KKK garbs, infected masses tangling in planetary viscera. Rodrigo has exhibited work at Semaphore East Gallery, Leslie Lohman, Franklin Furnace, and A.I.R. Gallery. Recent exhibitions and projects include the 2019 "Every Woman Biennial," curated by C. Finley, "Pages From the Frozen Sea," a book and ongoing project on climate change, curated by Eva Mantell and Sarah Stengle, and "Clusterfuck," at SOHO20. Rodrigo lives in Park Slope with her partner, cake artist, Janice Pullicino, and their cat, Molly. Find her online at nancyrodrigo.com, @brooklynsoul61, and via #nancyrodrigoart.