SHAHRZAD CHANGALVAEE: The Understandables Always Arrive from Far Away
current exhibitions | upcoming exhibitions | past exhibitions
September 6 – October 7, 2018
Opening Reception Friday, September 7, 2018
Installation images available here.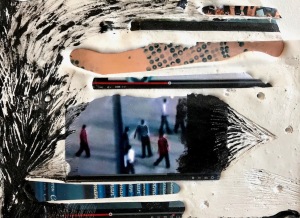 Image: We Thought it Was Obvious, 2, 2018. Courtesy of the Artist.
SOHO20 is pleased to present The Understandables Always Arrive from Far Away, new work by Brooklyn-based Iranian artist Shahrzad Changalvaee.
For the +/- Project Space Changalvaee installed plaster-encased tablets, and a new iteration of You Cannot the Same River Twice (2016).
Between the space of unutterable words, partial pictures, and visual and mental imagery, with the sculptural photographic accumulations Changalvaee (whose practice in general responds to the materiality of sculpture through a variety of media) "crops, shatters, and relinks" partial referents. She explains:
"I re-link and cure internet fluxes, personal experiences, local stories, and present material to alienate established narratives and create landscapes. As an immigrant finding place in a new home, bringing together shattered narratives, left-out visions, and marginalized details is an urge for me in performing coherency, to reclaim the fragmentations of memory and information, and address issues of agency, power, and control."
Within them, found images offer glimpses of hands in various gestures: passive, submissive, listening to authorities in meetings, demanding, claiming, or lingering in streets. These reside alongside chaotic scenes or abandoned views, bricks, sunset skies, tools, and leftover detritus/refuse/remnants/scraps as might accumulate in a studio. Acknowledging at once particular indexes (hands joined to politicians, protesters, workers, lecturers, or artists – protagonists within power structures), "by demolishing and minimizing referential signs in pictures," Changalvaee also seeks to provoke within the viewer a potentially "generic understanding of the unexplainable on an un-verbal level."
Aspects of this nonverbal intuitiveness also exist in Changalvaee's other works at SOHO20. In addition to the tablets, running diagonally from one portion of the ceiling to the opposing corner is the installed sculpture, You Cannot the Same River Twice, which Changalvaee created for the first time for an exhibition in Tehran, and here again as a site-specific installation. This New York iteration consists of an ostensibly precarious bucket, with a small hole in its side, which reveals a stream of clay running down a wooden structure, and gradually amassing as the clay lands. A deliberating balance hovers within the piece in that while gradual change may demonstrate its aliveness, clay is also an element of mourning in Changalvaee's cultural background.
A selection of Changalvaee's photographic series, This Tool Shall Pass (2017) hang in the gallery's office. As with her other works, these at once interrogate both the act of making, as well as how meaning is itself derived from a ubiquity of images, found in a studio, or on the internet.
This is the first +/- Project Space work curated at SOHO20 by its new Director, Janna Dyk.
*Title is taken from a line by the poet Yadollah Royaee (b. 1932, Iran)
SOHO20's exhibitions are generously supported by the Lagunitas Brewing Company.