Susan Hockaday: turning and turning in the widening gyre
current exhibitions | upcoming exhibitions | past exhibitions
March 15 – April 15, 2018
Opening Reception: Fri. March 16, 6-9pm
Closing Reception: Sun. April 15, 2-5pm
View images of the installation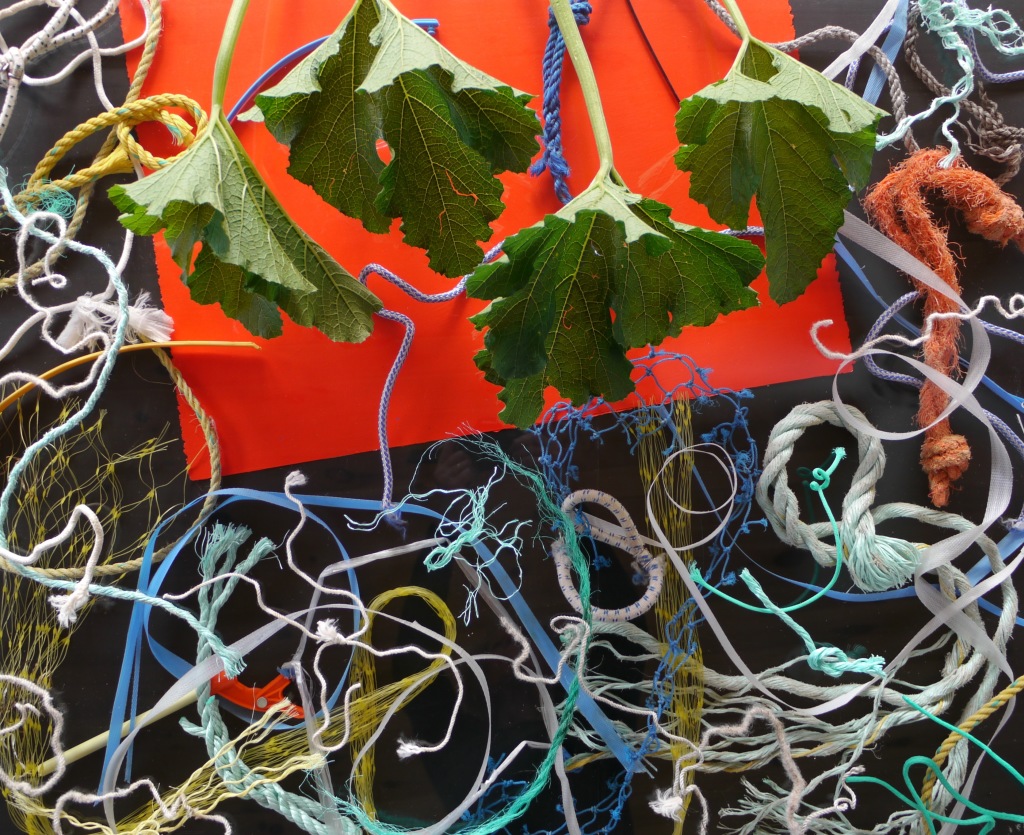 Zucchini Leaves, 2017. Digital c-print, 30 x 36.5 inches.
SOHO20 presents a new series of photographs by SOHO20 artist member Susan Hockaday.
Hockaday's new photographs each contain the hostile presence of plastic detritus and familiar bits of nature. The series grew out of an arrangement game of sorts, in which the artist continually added collected objects into a given frame, mixing elements of the natural and manmade world. Leaves, flowers, wood, shells, bones, and stones are intertwined with net bags, beach plastic, ropes, household litter, and plastic food containers. Each additional object has the potential to throw off the compositional and categorical balance – an exercise that perpetually expands the taxonomy of Hockaday's material universe. Nonetheless, a natural order seems to emerge when combining things that don't necessarily get along.
From a strictly visual perspective, these photographs are composed of pure, unadulterated color. Interspersed with black and high chroma backgrounds, the objects appear to float, confusing any implied gravitational directive. However, the visual opulence is a trick to lure us in. While comforting us with layers of colors and familiar objects, the works sit heavy with the deep melancholy of her subject: the world in which all of these objects came to be. Her sadness for the world seeps like oil through the images' delightful facades. Susan Hockaday regards plastic as the most visible sign of the vast changes overtaking the earth – there is barely a terrestrial corner that has not been touched by the material or its residue. The works remind us that there is no such thing as "away," and everything that we produce sticks to us in the end. She makes us wonder, if these prismatic plastics are what will inherit the earth, then what is the color of catastrophe?