The Story I Tell Myself
current exhibitions | upcoming exhibitions | past exhibitions
May 31 – July 1, 2018
Opening Reception: Fri. June 1, 6-9pm
View images of the installation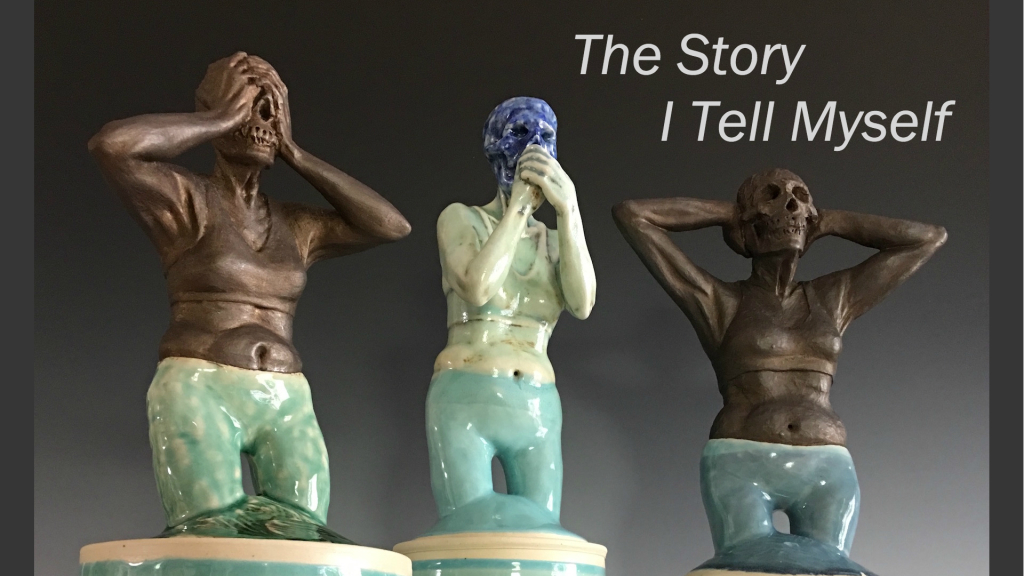 Image: Georgia Strange, works from the series: Reluctant Urns: Argument with Death, 2018. Clay, dimensions variable.
SOHO20 is pleased to present The Story I Tell Myself, the 2018 exhibition of our National Affiliates.
This exhibition considers our current moment as a time of reckoning across the western world. Within a polarized media culture that seems to perpetually ask viewers to form opinions, we are in a constant state of re-evaluating and repositioning our identities and biases. Within the heightened toxicity that confronts the media consumer daily, the artists in this exhibition come together by telling their own stories.
The artists in The Story I Tell Myself each come from different parts of the country, and likewise experience different versions of the world. Their works employ many mediums and modes of investigation that together embody a multiplicity of making. By collecting these stories in the space of SOHO20, this exhibition offers different perspectives, and the opportunity to form an new narrative using each others' works as a context. Ultimately each artist can only tell the story from her own place in the world.
Laura Cloud's interdisciplinary practice plays with and deconstructs cultural traditions, stereotypes, and mythologies, including her own personal identification with the name "Cloud."
Edie Cohn's paintings seek to capture the inner essence of her subjects. Her portraits, imbued with rich color and energy, seek to achieve palpable sense of vivacity present in the livelihood of her subjects. They rely on an underlying tension enacted through carefully manipulating the colorful chaos of her own making.
Dana Davenport is a Korean and Black American installation and performance artist based in Brooklyn, NY. Her work incorporates themes related to the body, ethnicity, and their interwoven relationship to social mores and institutional structures. Davenport addresses the complexity of interminority racism and credits whiteness as the beneficiary of these conflicts.
Nelleke Nix presents two works; the first is a self portrait of the artist while being targeted by the millimeter wave energy rays transmitted by the Active Denial System, a less than lethal weapon developed by the US military for the purposes of crowd control, originally deployed during the War in Afghanistan. Her second work, by contrast, has been made over the course of 12 years, referencing Tortuguera National Park, a protected wilderness area in Costa Rica.
Carrie Nobles' work confronts beauty and femininity, evoking questions about the effects of body image on the formation of identity for women and girls. Her work is influenced by the confident and beautiful plus-size women that have impacted her life over the years, using bold colors and various patterns to create the essence of their personalities.
Barbara Rehg presents a new series of abstract drawings, continuing her search to see her work through new eyes. These reconfigured form are an exercise in creating new constructions, and making parts whole again, responding in part to the fraught climate of our contemporary society.
Ann Rowles makes what she refers to as "site-adaptable" sculptures, using crochet as her primary medium. These abstract, biomorphic works seek non-verbal forms for a deeper understanding of the nuance of feeling. This durational, meditative work offers a way for her to connect own family history and in the larger history of feminized labor.
Georgia Strange's new work, Reluctant Urns: Argument with Death, is a series created immediately following a period of loss. The Urns represent vessels literally and symbolically, suggesting burial urns – empty receptacle covered by figures that simultaneously invoke life and death. These works convey the senseless argument with death and the subsequent void, offering no solace through the bony skulls posted on the sagging bodies of each figure.
Rosie G. Thompson's "Bone House" Series are painted wood constructions, each containing a house of bones depicting the physical and spiritual qualities of everyday rites, rituals, and practices. Through this series, Thompson celebrates the poetic in life, death, and afterlife using figurative representatives of an inner integrity that transcends the everyday.
Virginia Tyler has worked with metal casters in Ghana for the past 20 years. Her most recent installations are collaborations with Paul Amponsah and Kofi Amponsem, who are metal casters working in the ancient West African tradition. The current pieces are based on constellations that are visible from both Ghana and the US.