Artist in Residence – Alli Miller
Alli Miller is a Los Angeles & NYC-based artist, co-founder of DADDY, bespoke nail technician-life coach at Mutant Salon, and is currently making an application for the Great Pacific Garbage Patch to become recognized as a UNESCO World Heritage Site. After receiving a BFA from Cooper Union, Alli was part of the last class to receive an MFA from USC Roski School of Art & Design in 2015. Imagining artistic practice as a sedimentary process of material and social transformation (akin to a trash heap or scrap yard), Alli works in installation, performance, image-making and visual research to rummage in the aesthetics of precarity, collapse, and by extension, the vast formlessness of the Earth's ocean gyres. This approach formalizes a desire for multiplicity: to inhabit interstitial spaces as survival strategy, as means to assess current realities of representation and waste, and as catalyst to emancipatory weirdness and joy.
+++
July 7 – August 14, 2016
Open Lab Hours:
Thursday – Sunday 12-6pm
Through August 14th
*Appointments for an Open Lab Hours hour are encouraged, but not required.
Resident Artist Alli Miller's Open Lab Hours continue the transformation of SOHO20 into a fluid hub for cooperative research. Sign up in half-hour blocks to make an appointment with the artist!
For individuals who wish to participate in Open Lab Hours, but find themselves burdened by work or geography, we are pleased to announce the launch of Miller's Open Lab Hours Hotline. Participants are invited to call the gallery during open hours, concurrent to the time the artist resumes research, trash sorting, Snapchatting, doing her nails, intermittent snacking, and other forms of busy work.

Please call (718) 366-3661 to receive a reading [or to distract the artist].
UPCOMING EVENT:
Open Studio + Exit Launch
Fri. August 12, 6-9pm
Join us for Exit Launch, Miller's culminating event of the residency. During the launch, attendees are invited to review dossiers produced from recent research related to the artist's ongoing project, An Application, while resting on inflatable chaise lounges made from post-consumer waste. Through this event, Miller asks the viewer what forms cooperative research may take, and of its potential to produce action beyond recuperation and hegemonic forms of representation.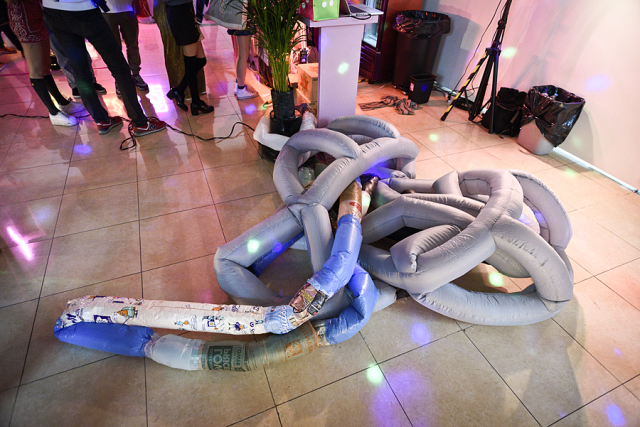 Alli Miller will hold Open Lab Hours Thursday through Sunday, 12-6pm. Appointments are encouraged, but not required. Visitors are invited to use the space as a plastic bag and packaging recycling center. For the duration of Open Lab Hours, Miller will offer a personalized presentation of the documentation and research accrued from An Application. Direct input from gallery visitors is welcomed to further the artist's research process in a project of imagining the Post-Global Consumer urban landscape as otherwise.
Additionally, Miller will enact performative "builds" of Trash Floats during Open Lab Hours. Handmade from post-consumer waste, inflatable Trash Floats simultaneously create and disrupt the gallery's promenade. Trash Floats are jet set: their compatible components are easy to transport in a suitcase (perfect for the global arena of the professionalized contemporary artist), and upon landing, ready to party. Yet once inflated with fans, the floats swell to inhabit a potentially abject voice, body and footprint. Trash Floats are fiesta monsters primed for potentiality, a means to uniting politic and performative body, and an opportunity to transform the site of the gallery into a sculptural arena affected with excess.
To make an appointment, please email [email protected] with the subject Residency Lab appointment.
EVENTS:
Open Lab Hours Kickoff and City of Water Day Eve Toast
Fri. July 15, 6-9PM
The evening was the kick-off the transformation of SOHO20 into a fluid hub for cooperative and performative research. Kickoff attendees were invited to drop off plastic bags and other plastic recyclables, engage in the performative build of a Trash Float by the artist, view research and drawings related to An Application – her project to make an application for the Great Pacific Garbage Patch to become recognized as a UNESCO World Heritage Site.