Censorship / Vulnerability / Permission
Fri. June 23, 7pm
In conjunction with the current exhibition Otherwise, you don't see me, SOHO20 invites you to a night of readings and conversation by the writers who have contributed works to the exhibition's zine: Christen Clifford, Nicole Goodwin, and Rindon Johnson (who will join us remotely). In extension of the physical works on display, the written works consider positions of vulnerability within situations of censorship, implied privilege to speak and participate, and the overall power structures that hold these ideas in place.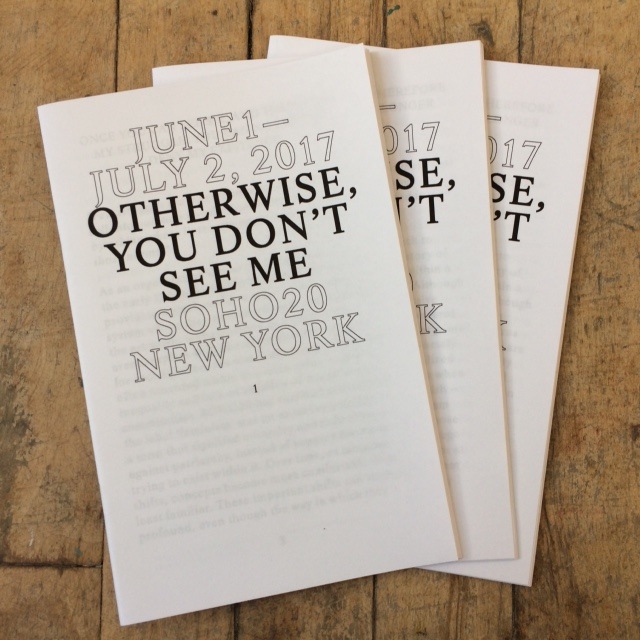 Christen Clifford's work has been shown at Panoply Performance Lab, Grace Exhibition Space, Postmasters Gallery, and The New Museum, and her writing is published in the bestselling anthology Women in Clothes, The M Word: Real Mothers in Contemporary Art, Hyperallergic, Culturebot, The Brooklyn Rail, and Salon. She teaches Contemporary Feminisms, The Body in Performance Art, and What is Rape Culture? at The New School and curates Experiments and Disorders at Dixon Place. She made a Feminist Public Action disguised as a fashion accessory called the PussyBow and was the lead artist on No Wave Performance Task Force's public action We Wish Ana Mendieta Was Still Alive. She lives in Queens and online @cd_clifford / www.christenclifford.info
Nicole Goodwin is the author of Warcries (2016). She is the 2013-2014 Queer Art Mentorship Queer Art Literary Fellow, as well as the winner of The Fresh Fruit Festival's 2013 Award for Performance Poetry. She published the articles "Talking with My Daughter…" and "Why is this Happening in Your Life…" (Personal essay/Review for award-winning documentary Tough Love) in the New York Times' parentblog Motherlode. Additionally, her work "Desert Flowers" was shortlisted and selected for performance by the Women Playwriting International Conference in Cape Town, South Africa.
Rin Johnson is a multidisciplinary artist and writer. Johnson is the author of "Nobody Sleeps Better Than White People" from Inpatient Press and the virtual reality book, "Meet in the Corner" from Publishing-House.Me. Johnson's writing has appeared in Hyperallergic, Rhizome, The Brooklyn Rail and The Miami Rail.