current exhibitions | upcoming exhibitions | past exhibitions
June 1 – July 2, 2017
+ View the zine online [ HERE ] +
+ View images of the installation [HERE] +
Events:
Opening Reception: Fri. June 2, 6-9pm
Censorship / Vulnerability / Permission – a reading with Christen Clifford, Nicole Goodwin, and Rindon Johnson: Fri. June 23, 7pm
Baseera Khan – Dream Machine: Thurs. June 29, 7pm
Featuring works by
Andrea Arrubla, Debora Castillo, Scherezade Garcia, Mona Saeed Kamal, Baseera Khan, Sarah Maple, and Hồng-Ân Trương + Hương Ngô
Text contributions
Christen Clifford, Nicole Goodwin, and Rindon Johnson
Curated by
Rachel Steinberg
Coordinated by
Carla Hernandez, with support from Carson Parish

Zine layout and design by
Rosen Tomov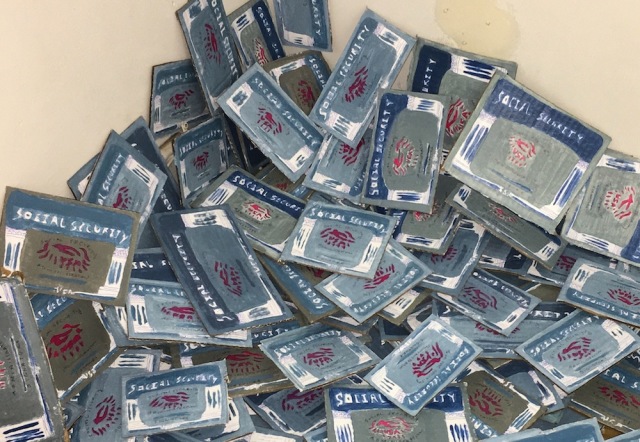 Andrea Arrubla, "Untitled" (Portraits of Immigrants in Limbo), 2016. Paint on cardboard, dimensions variable.
+++
We began research for this exhibition by seeking evidence of bureaucratic violence and presently shifting power structures. What we found was an imprint of unguarded vulnerability revealed by our contemporary political currents. The artists and writers whose works are featured in this exhibition consider the positioning of an identity within a larger narrative. Whether their own, their kin, country, or simply imagined, from a western-centric viewpoint, these identities are largely read as 'other.'
Through a variety of media – including video, sculpture, photography, prints, and text, the artists attempt to decenter the typical hegemonic perspective, using intimate narratives, gestures, and interactions to expand our gaze onto larger, systemic power structures. Rather than embody a proposed alternative to a system, the artists reimagine how these existing stories can be exposed to a public. They lay bare the oppression that exists through metrics of documentation and categorization, spheres of agency, and the disjuncture between memory, the body, and data. In doing so, they ask not only how one can be seen, but how one can tease out an identity, body, or representation from their place in an accepted order.
The works each mark a moment of intimacy through gestures, remnants, and documents, which in turn acknowledges the inherent violence of turning something human into something quantifiable. Within a societal structure that attempts to segment otherness into closed loop of valuation, we are often encouraged to view the unfamiliar through a reductive sieve. Anger, memory, empathy, and tactility expose the calculated coldness of these structural arrangements. By shining a light on these these points of vulnerability, the artists ask: now can you see us more clearly?
+++
Special thanks
Eddie José Bartolomei, Emily Gaynor, Scott Schwartz