current exhibitions | upcoming exhibitions | past exhibitions
+++
February 9 – March 12, 2017
Opening Reception: Fri. February 10, 6-9PM
Closing Reception: Sun. March 12, 4-6PM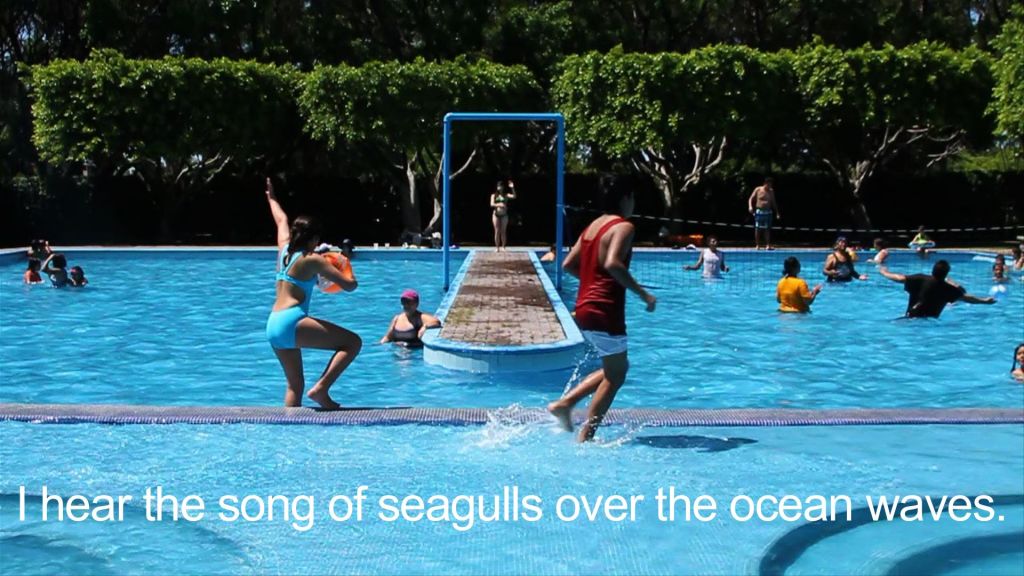 [ Maya Jeffereis, Temixco, 2017. Performance and single-channel color video with sound. ]
SOHO20 is pleased to present Vestige, an exhibition of recent works by SOHO20's 2016 Residency Lab artists: Maya Jeffereis, Alli Miller, and emily north.
The works in this exhibition are bound by the traces that they each illuminate, of things that are largely forgotten, functionless, or on track to disappear from our consciousness completely. Whether a body, a space, a piece of material, they act as palimpsest, exhibiting impressions of their encounters with larger systems.
In Temixco, Maya Jeffereis repurposes a Japanese Bon Odori dance, traditionally performed during ceremonies to honor ancestors, at the Ex Hacienda de Temixco Parque Acuatico in Temixco, Mexico. The theme park is built on the previous site of an internment camp for Japanese and Japanese-Mexican citizens during the Second World War. The incongruity of Bon Odori dancing in this site marks a blind spot in historical memory. Generally ignored by onlookers enjoying the leisurely setting, Jeffereis' performance both mirrors and refracts the invisible history of the site.
Alli Miller has created a series of flags made from post-consumer waste. An ominous homage to a reckless consumer-based world, these flags embody the material encroachment of synthetic human byproducts on our natural environments, and ultimately, ourselves. Typically carrying connotations of warfare, nationalism, and advertising, the flag is employed by Miller as an open question rather than a declaration.
In a queer analysis of figurative representation, emily north/em16 presents us with two large works on paper and one soft sculpture. These works celebrate rebirth through the bodies depicted, by vibrantly embodying renewal. Through her portrayals of human form, north poses a question about the visibility of the queer body, and whether who we are determines the paths we embark upon.
---
On Sat. February 18 from 1-6pm we hosted Still Life, Still Alive – a conversation and performance with Awilda Rodríguez Lora and emily north as an extension of this exhibition.