Please note that after July 1, 2019, SOHO20's +/- Project Space and Rethinking Feminism programming will be placed on hold, by vote of the new SOHO20 Artists, Inc. acting board and member artists. For additional information, please email [email protected].

2018-2019 FELLOWSHIP
Curatorial Fellow Mira Dayal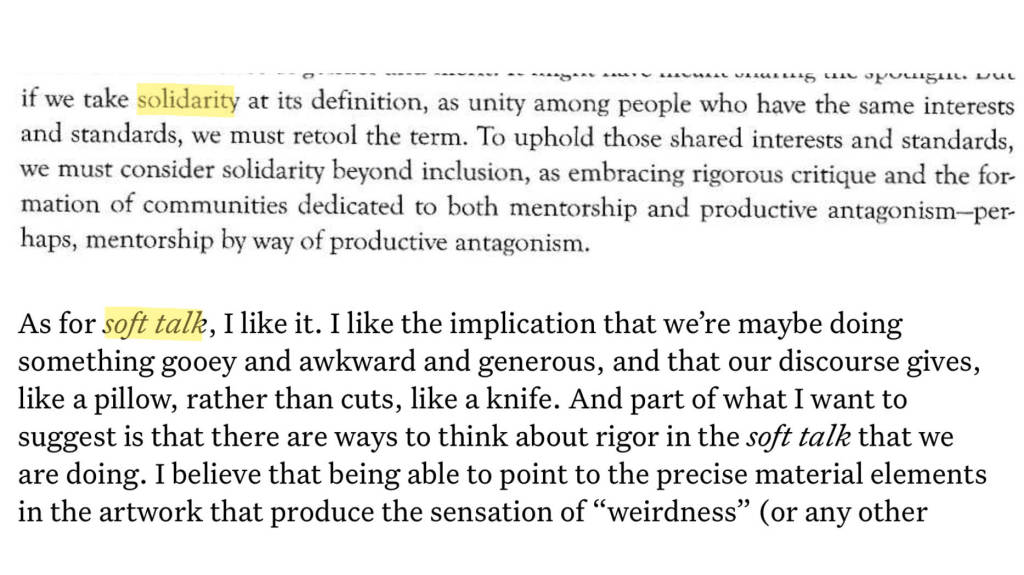 Mira Dayal is an artist, critic, and curator based in New York. She is the founding editor of the Journal of Art Criticism, co-curator of the collaborative artist publication prompt:, and an assistant editor at Artforum. Dayal's studio work has focused on the routines and materialities of language and the body. Her next solo exhibition will be at Lubov gallery in January 2019. Past shows include Material Metaphors at NARS Foundation, Spectral Imprints at A.I.R. Gallery on Governor's Island, and Volley at Abrons Art Center. Extending and researching these interests, Dayal has previously curated programming and exhibitions on the subjects of intimacy, material residues, and commemoration for venues including Helena Anrather Gallery, A.I.R. Gallery, the Pfizer Building, and Barnard College; she also assisted New Museum curator Margot Norton with research for Sequences VIII: Elastic Hours, a biennial in Reykjavik. Dayal's curatorial practice primarily engages the work of emerging and underrepresented artists. In September 2018, she curated a show of Lizzy De Vita and Hong Seon Jang for 5-50 Gallery, followed by Formula 1 at CUE Art Foundation, where she is a Curatorial Fellow, in April 2019.
At the intersection of curation and criticism, Dayal has contributed to several museum catalogues, and has also published her writing online and in print with Artforum, The Brooklyn Rail, CUE Art Foundation, Hyperallergic, Performa, NYAQ, and other publications. Recent articles have focused on the work of Lauren Bakst, Wong Ping, Fia Backström, Zoe Leonard, Cathy Wilkes, Christie Neptune, and Justin Berry.
Dayal was invited to join SOHO20 by former Director and Curator, Janna Dyk.
Dayal's 2018-19 programming summary:
Dayal's 2018-19 programming will be centered on the very vocabulary of "Rethinking Feminism," using language as a tool for evaluating what feminism is and what feminisms can be. Framing practices that focus on the themes of fiction, grammar, history, and listening, this series of performances and workshops will engage in semantics, silence, and satire as critical roots and routes.
Past events:
Solidarity and Feminist Criticism #3: Specific Language & Relative Positions, with Amy Fung, Ariel Goldberg, and Lindsay Preston Zappas
June 22, 2019, in conjunction with A.I.R. Gallery (at SOHO20 )
Solidarity and Feminist Criticism #2: Representation & Expansion
May 19, 2019, 3-5PM, in conjunction with A.I.R. Gallery (at A.I.R. )
Solidarity and Feminist Criticism #1: Soft Talk and Solidarity
Sunday, April 14, 2019, 3-5PM, in conjunction with A.I.R. Gallery (at A.I.R. )
How to Read a Banana: A Screening
Friday, March 22, 2019, 8-10PM
Captions from and Towards Correspondence
Thursday, January 24, 2019, 7 – 9PM
2017-2018 FELLOWSHIP
Program Fellow Emily Gaynor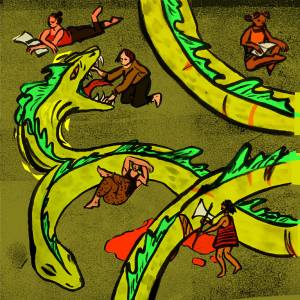 Home on the page: towards a feminist public
When we read, when we write, we activate a third space, apart from ourselves and the page or screen, yet still essential to both. For instance, reading theory has the capability to texture the reader's world in previously unknown ways. Writing and reading history can change an entire generation's perception of their past and present realities. Words on a page have the power build layers into our world, injecting it with fantasy, mystery, romance, color, and life. A specific order of words has the ability to create a silent public, changing the direction of thought and culture.Through the act of reading we bring words alive, and simultaneously they bring life to us– a symbiotic relationship that often goes overlooked. What tangible changes do we, can we make based on the unseen reality we bring to life when we read and write?
Similarly, the concept of home is caught between the theoretical and physical. The word home carries with it connotations of safety, security, and comfort. As countless artists and writers have expounded, home can extend beyond geography and exist internally–a space unable to be mapped, yet continuously affecting our lived reality. In a landscape so saturated with normative perspectives, how can we queer these spaces through our participation in literature?
SOHO20 Gallery presents Home on the page: towards a feminist public, a four-part series of events to take place over the 2017/2018 season. By inviting feminist publications from across different sectors of art and literature, we aim to explore the effect art/literature has on its environment and vice versa, and how publics are formed. Through panels, readings, and other events, we will activate the gallery as a hub of art and thought, create a space for discussion and debate, strengthen and extend our community, consider how can art facilitate a sense of home, and furthermore how the idea of home itself can encompass our constantly evolving notions of security and community.
Gaynor was invited to join SOHO20 by former Director and Curator, Rachel Steinberg.
Image by Ruby Lavin
Past Events:
Milkmade Birthday Party: Issue 01 Launch
Sat, June 9, 2018
How to Build a Feminist Public: A Pop-Up Shop
Sat, May 26, 2018
Weird Sister Presents: Writing at the Intersections of Feminism & Pop Culture
Fri, May 11, 2018
Ginger Issue #12 Release: creating feminist spaces in publishing
Sat. April 21, 2018